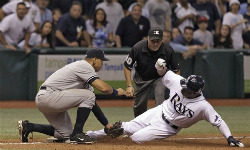 Growing up my dad always told me, "don't make the first or third out at third base."
I probably heard that phrase than just about any other piece of baseball advice. Or really, any other fatherly advice.
Carl Crawford
doesn't buy it, even after he made the last out at third base Tuesday night. On Wednesday, he
told the St. Petersburg Times ' Marc Topkin
that he's surprised at just how much talk there's been about his play.
Crawford also said he'd do it again:
"People can say it was a dumb play all they want, but that's the way we play, and I'm sticking to that," Crawford said. "And if that situation comes up again tonight, I'm going to do it again. They can say it's stupid all they want, I don't care."
As for a defense of Crawford, I'll rebel against my father's advice and give these three points of evidence against conventional wisdom:
1. Crawford is a lot faster than me -- and just about everyone else.
2.
Mariano Rivera
was on the mound, and moving the tying run 90 feet from the plate is big against one of baseball's all-time best.
3. It's an unproven rookie in right and he has to make a perfect throw to get Crawford. He did.
-- C. Trent Rosecrans
For more baseball news, rumors and analysis, follow @cbssportsmlb on Twitter or subscribe to the RSS feed .