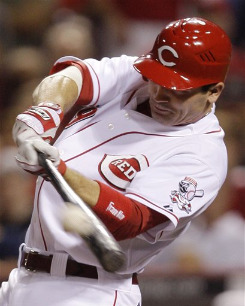 CINCINNATI -- Reds shortstop Orlando Cabrera couldn't believe it -- and he said so, albeit with an expletive. But it's true, his teammate, Joey Votto, hasn't popped up to the infield once this season.

"That's incredible," said Cabrera, who has 13 infield fly balls this season. "I'd be bragging."

Cabrera would, Votto isn't.

"I'd trade 10 strikeouts for 10 popups, that's for sure," Votto said when asked about the unusual stat on Tuesday.

ESPN's Rob Neyer noted Votto hadn't popped up last week (after Dan Hennessey of the Knuckleballs blog did the same nearly two months ago) and I mentioned it to Votto before Tuesday's game. Votto had never heard about it, nor had Laynce Nix, whose locker is next to Votto's. Nix claimed I'd jinxed Votto -- but the MVP candidate put the ball in play four times Tuesday night, and none of them were a fly ball within 140 feet of the plate (FanGraphs' definition of an Infield Fly Ball.)

Jonny Gomes, owner of 24 infield fly balls this year, called it "awesome."

"It's tough with a round ball and round bat to be half of a fourth of an inch – whatever that is – to be off and that's all it takes to pop up," Gomes said. "You can take a great swing and do it, everything can be locked and you can do it. It's a pretty cool stat."

Like Votto himself, Gomes didn't know if it actually meant anything. In addition to Votto, Gomes, Cabrera and Nix, I asked Chris Valaika (none himself, but in just 28 plate appearances) and Miguel Cairo (three IFFB) -- and neither of them could think of any deeper meaning.

"I wouldn't say it's an anomaly, there's a reason I'm not popping up. I don't ever remember popping up much when I was younger," Votto said.

So I went somewhere else, I talked to a guy who thinks about hitters and the way hitters hit and think as much or more than any hitter -- pitcher Bronson Arroyo. Arroyo is a couple locker stalls down from Aroldis Chapman, but he doesn't have the arm of Chapman. Instead, he gets batters out by out-thinking them. Arroyo thought about the stat for a moment and broke down what it meant:

"It probably means for one, he lets the ball get really deep. If he lets the ball get deep and he fouls it off, it goes behind him. If he gets out front, it'll go to the infield," Arroyo said. "That means he stays back a lot, which means he's going to hit offspeed stuff and hit the fastball the opposite way. Which he does a decent bit. Other than that it's just having a good eye and square the ball up more than the average cat. You'd still think, I don't care who you are, Albert [Pujols] has to have a pop up to the infield this year. That's weird."

Pujols, for the record, has 28 infield fly balls this season.

Of the balls put in the air against Arroyo this year, 11.1 percent (28) of those have been to the infield, while he's gotten 13.4 percent of those in the infield in his career.

As for Arroyo's analysis, Votto is one of the better power hitters going the other way. Of his 34 home runs, 16 have gone to left field. When you look at his home runs , he hits the most to left field, while scattering the rest of the field almost evenly. Arroyo said he's noticed when pitchers get Votto out, they have to go inside -- and the infield popup rate is an example of that.

"That's an amazing stat. It means he doesn't get fooled a whole lot," Arroyo said. "You see that on changeups when guys get out front. When he gets beat, he gets beat inside and that's usually a ground ball because that's off the hands and you can't get extended and push the ball in the air."

Votto has just nine infield fly balls in his career. He had two last season, five as a rookie in 2008 and two in his September call-up in 2007.

Over his career, the Phillies' Ryan Howard has just 15 infield fly balls, two this season. His career IFFB% is just 1.8 percent.

This season among qualified batters, the Astros' Michael Bourn has the next-lowest IFFB%, with 1.1 percent of his fly balls going to the infield. He has one infield fly ball this season in 589 plate appearances.
-- C. Trent Rosecrans
For more baseball news, rumors and analysis, follow @cbssportsmlb on Twitter or subscribe to the RSS feed .