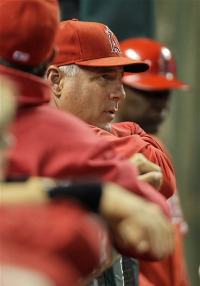 The 2011 baseball season will start on March 31 in an effort to keep the postseason from creeping into November, but
Angels
manager Mike Scioscia has another idea to keep that from happening -- shortening the season.
Talking to the Los Angeles Times ' Mike DiGiovanna
, Scioscia said he'd like to see the division series lengthened from five to seven games and cut the regular season to 158 games -- four shorter than the current slate.
Scioscia said he doesn't expect the game to go to the pre-1961 154 games, that it would impact the money from losing those four home dates, but two dates would be a compromise.
"If you blend it, where you cut down some games and some dates, you could minimize the [financial] impact, tighten the schedule by a week to 10 days to accommodate an expanded division series and get the World Series done in October."
Scioscia is a member of Bud Selig's 14-member committee to review and examine on-field related issues, so he does have a little more say than most when throwing out these ideas.
Another idea suggested by many is more day-night doubleheaders. The day-night doubleheader puts two games on one day for the schedule's benefit, but keeps two different tickets to benefit the owners' pockets.
"From an ownership perspective, any time you lose a date, you lose revenue," Scioscia said. "A split doubleheader doesn't hurt revenue, but they're much tougher for players. I'm fine with regular doubleheaders, but I'm not at all in favor of split doubleheaders."
-- C. Trent Rosecrans
For more baseball news, rumors and analysis, follow @cbssportsmlb on Twitter or subscribe to the RSS feed .