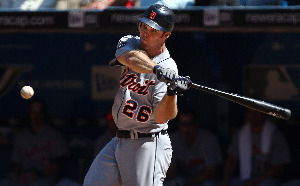 Brennan Boesch
had one of the most impressive debuts a rookie can have, landing in the majors on April 23 and going on to hit .342/.397/.593 with 12 home runs in 267 plate appearances in the first half.
However, his second half has been anything but impressive, checking in at just two home runs over 201 PA with a line of .155/.234/.215. That's nothing short of a terrible line, and the struggles have been tough for the youngster to handle.
"You'd like to say you're ready and a finished product when you get here,"
Boesch told
the
Detroit News
. "And it seemed that way for a while. But never did I get complacent."
Boesch was never a highly-regarded prospect, so his breakout was met with skepticism. Even though he predictably regressed, the amount of regression Boesch has undergone has been ridiculous, and is starting to weigh on the 25-year-old's mind.
"A lot of it is not physical, a lot of it is mental," Boesch added. "So, there are some things I'd like to fine-tune -- Being in a consistent mind-set, not allowing distractions to take over. I want to be consistent rather than amazing one day, and not the next."
Manager Jim Leyland, who has seen plenty of baseball players come and go, thinks Boesch has the chance to be a strong player if he can grow from his struggles.
"He can run, he can throw, he can hit for power. There was a stretch there when, arguably, he probably was producing better than anyone in baseball," he said.
Certainly not in the second half.
To prepare for the 2011 season, Boesch is headed to California with teammate Danny Worth, where he will undergo a training program along with Delmon Young and Carlos Quentin. He'll enter 2011 with a good chance to make the major-league squad, especially with an outfield in flux with only Austin Jackson assured of a job.
Magglio Ordonez, the team's starting right fielder, went down with a season-ending injury earlier in the season and is a free agent. Johnny Damon, who is primarily the designated hitter but can also play left field, is also a free agent. Boesch, Casper Wells and Ryan Raburn all split time in the outfield, and Carlos Guillen, currently at second base, could shift to left field for the final year of his deal in 2011.
With just $55 million guaranteed prior to arbitration raises, the Tigers could also flash the checkbook to free agents in the attempt to propel Detroit back into the playoffs.
With all of these factors, Leyland wasn't ready to commit to Boesch on the 25-man squad, but believes he'll recover from the second-half slump.
"I'm not gonna say he's a slam-dunk, but he'll compete [next spring] and whatever he gets is up to him," he said.
-- Evan Brunell
For more baseball news, rumors and analysis, follow @cbssportsmlb on Twitter or subscribe to the RSS feed .