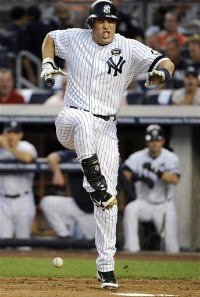 Give
Mark Teixeira
credit -- he spent two weeks in a slump without mentioning to anyone that he's playing with a broken toe.
Only when the
New York Post
learned of the injury did the
Yankees
first baseman talk about the broken pinky toe he suffered August 31 when a slider hit him in the foot.
"As soon as it happened we went for an X-ray and it was broken,'' Teixeira said. "I asked the doc what the options were and he said tape it to the next and play through the pain."
He has, but the injury does seem to be affecting him. After righting his ship to bat .344 in July and .289 in August, he's put up a .209/.370/.256 line with no home runs and five RBI since the toe was broken.
"Every step I take it stings," Teixeira said when asked when he feels it the most. "It's worse on defense because I have to move side to side and shuffle."
Since whether the Yankees place first or second in the division
doesn't matter much,
they are going to have to weight how much letting Teixeira rest in the short term would help their chances in the long term.
-- David Andriesen
For more baseball news, rumors and analysis, follow @cbssportsmlb on Twitter or subscribe to the RSS feed .