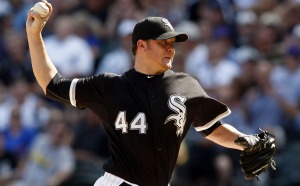 Jake Peavy
is hopeful he can make it back in time for Opening Day 2011, but isn't ready to categorically state that.
"I don't really know and I don't think the doctors really know,'' Peavy
told the
Chicago Sun-Times
. "They expect me to make a full recovery but said a lot of this is uncharted territory. They think it will be the case, and we hope that will be the case, but at the end of the day nobody can say, 'At this point and time, you're going to feel this way.'"
Peavy underwent surgery to repair a detached lat muscle in his right shoulder which is not a common injury like Tommy John surgery. Peavy relayed a story of speaking to retired star John Smoltz who said that with TJ surgery, you know what you should be doing when reaching certain benchmark days. Not so with Peavy's injury.
"I feel very confident that I will start my throwing program at the beginning of the year. I mean I don't want to miss anymore time than I have to, but at the same time we got to make sure we take things the right way," Peavy added.
Before going down with the injury, Peavy made 17 starts, posting a 4.63 ERA in 107 innings, punching out 93 and walking 34. Part of the reason for his high ERA had to do with home runs, which were expected moving from friendly Petco Park as a member of the
Padres
to US Cellular Field, home of the
White Sox
.
Meanwhile, general manager Kenny Williams isn't taking any chances in preparing his 2011 rotation for life without Peavy. Williams has four starters under contract -- Mark Buerhle,
John Danks
,
Gavin Floyd
and
Edwin Jackson
. Williams hopes to bring back
Freddy Garcia
, who seemingly came back from the dead to post a 11-5 record in 25 starts with a 4.82 ERA.
Garcia could step in the rotation if Peavy isn't ready to start the season, and otherwise would pitch out of the bullpen as a swingman. To further insulate the ChiSox,
Chris Sale
is expected to be converted back to a starter in the minors in 2011. Sale is currently pitching out of the bullpen as Chicago makes a push to win the AL Central Division.
Peavy doesn't fault Williams for the cautious approach in making sure there is plenty of depth, and appreciates the thought as a way to make sure Peavy comes back on his own schedule.
"I did have major surgery and we have to make sure that I didn't take any steps back,'' he added. "We have to be cautious and if that means take a couple extra weeks in spring training to get going ... I certainly don't want that to happen, and the plan is to do everything I can to be ready for the start of the season.''
Having starting pitching depth is a great thing, one which several teams undervalue but other teams like the
Red Sox
clearly hedge against in offseason moves. To have six starters on the major-league roster plus a pitcher like Sale in the minors will put the White Sox in great position, especially with additional young pitchers such as Jeff Marquez and
Lucas Harrell
as depth in Triple-A.
--
Evan Brunell

For more baseball news, rumors and analysis, follow @cbssportsmlb on Twitter or subscribe to the RSS feed .