Nothing quite like reputations -- you know, Dusty Baker hates young players and Tony La Russa is a genius.
While the Baker has stuck by young outfielders
Jay Bruce
and
Drew Stubbs
through their struggles this season, it's been La Russa that's frustrated one of his young stars.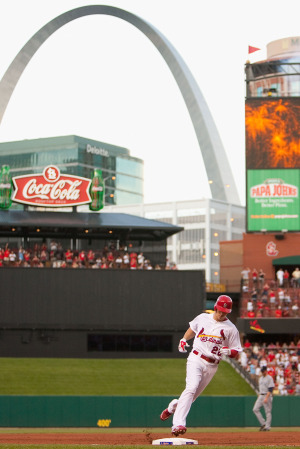 La Russa confirmed Sunday that
Colby Rasmus
had requested a trade because of La Russa's non-use of the talented outfielder.
"What do you want me to say? Ask Colby. Just ask Colby," La Russa
told reporters, including Joe Strauss
of the
St. Louis Post-Dispatch
, who
initially reported the request
. "He can handle it however he wants to handle it. He's capable of explaining himself and what he was thinking at the time."
Rasmus wouldn't say much -- he wouldn't confirm Strauss' earlier report or if he wished to stay with the
Cardinals
.
"I'm not going to say either way," Rasmus said.
Ask if he was happy in St. Louis, he told
FoxSportsMidwest.com's B.J. Raines
, "I'd rather not answer that if I don't have to."
Strauss says a source told him Rasmus requested a trade during the team's July 23-25 series in Chicago. Rasmus arrived late to the park due to "travel complications" and was chastised by La Russa, who threatened to option to Triple-A.
La Russa said everything is behind the two: "I talked to him at the time about what were the issues. Last year it was part of growing up. I think he's grown up this year quite a bit. He's on his way."
Still, La Russa's actions say something else. Rasmus his hitting .264/.349/.495 with 19 home runs and 54 RBIs for the offensively-starved Cardinals. However, since the series in Chicago, Rasmus has started in 19 of 34 games (although he did miss more than a week with a strained right calf, so it wasn't all about being in La Russa's doghouse). During that stretch, he's hit .254/.349/.451 with three home runs. He's started only seven games of the Cardinals' recent 6-14 slide -- in that time he's hitting just .095 but has a .345 on-base percentage. Rasmus was on the bench again Saturday, picking up one of the team's six hits in a pinch-hit appearance. He did start on Sunday.
Last week, author Buzz Bissinger -- who wrote a fawning book on La Russa --
wrote that La Russa thinks Rasmus is "lazy."
Bissinger, who also tweeted he doesn't speak to La Russa, thinks the Cardinals' manager has "lost his interest in baseball" and many believe he could retire after this season, or at least find another place of employment. Rasmus is one of the few players the Cardinals have developed from their minor league system in the last few years -- and there doesn't appear to be much help on the way -- and with a potential money crunch coming with
Albert Pujols
' contract coming due plus
Matt Holliday
's monster deal already on the books, it could be a lot easier to replace the manager than a good, young player.
UPDATE:
Pujols was less-than sympathetic to Rasmus' plight. Here's what he said to
Yahoo!'s Jeff Passan
:
"If he doesn't want to be here next year, we need to figure out a way to get him out of here and find somebody that wants to be here and play," Pujols told Yahoo! Sports before Sunday's game against the Reds. "That's a reality.
"That'll show you right there a young player that doesn't respect what he's got," he added. "He needs to find out the talent and ability that he has and pretty much keep his mouth shut and play the game. Let the organization make those decisions, not himself."
--
C. Trent Rosecrans

For more baseball news, rumors and analysis, follow @cbssportsmlb on Twitter or subscribe to the RSS feed .