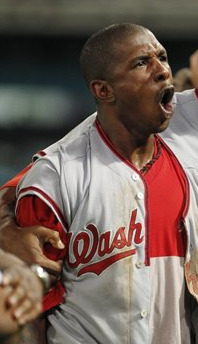 Nyjer Morgan
has received an eight-game suspension for his actions this week
according to Jon Heyman
of
Sports Ilustrated
, which is on top of a seven-game suspension for throwing a ball at a fan in Philadelphia.
Morgan has appealed the original seven-game suspension and may see it reduced after a
Phillies
fan
rushed to his defense
, but his eight-game suspension for his latest actions are well deserved. He clocked
Bryan Anderson
for no reason, was
benched
the next day for the transgression and compounded the incident by
calling out
his manager.
Things ratcheted up when he
bowled over
a
Marlins
catcher in extra innings in a play that could have won the Nats a game had he slid. The catcher --
Brett Hayes
-- will miss the rest of the season with injuries sustained in the crash. He then
cussed out a Marlins fan
and things finally
came to a boil
Wednesday night when the Marlins plunked Morgan.
The center fielder then swiped two bags, angering the Marlins more, feeling Morgan hadn't been taught his lesson.
Chris Volstad
threw at him again in the sixth (although he and manager Edwin Rodriguez have denied the purpose pitch -- but there's no denying the evidence). An honest-to-god fight then broke out between two teams (
see video
) that featured some punches landing and a WWE-caliber clothesline of Morgan by Florida first baseman
Gaby Sanchez
.
The Marlins were to blame for the fight -- after all, the punishment was doled out in the plunking, and Morgan was within his rights to steal the bases. However, there's no questioning he's brought all this upon himself, and there's near-zero chance that his eight-game suspension will be reduced.
And in light of recent events, that seven-game suspension might stand, knocking Morgan out for 15 games. If he has any brains in him, he'll serve the suspensions immediately so he doesn't miss any time in 2011. It's not as if the team needs him now, anyways: the Nats are out of the postseason race and expanded rosters mean they can cover Morgan's absence in the field without losing any other players.
Joe Capozzi of the
Palm Beach Post
notes that
Volstad was suspended six games, Alejandro Sanabia five and Gabe Sanchez three.
UPDATE
: The
Associated Press
has revealed the rest of the suspensions. Nats pitcher
Doug Slaten
was docked three games for throwing at Sanchez in the seventh inning, and Jim Riggleman was suspended two games along with third-base coach Pat Listach (three games), who jumped in the beginnings of the fray and got in some shots at Volstad. Fish manager Edwin Rodriguez was docked one, and reliever
Jose Veras
was fined, as were all suspended players.
--
Evan Brunell

For more baseball news, rumors and analysis, follow @cbssportsmlb on Twitter or subscribe to the RSS feed .