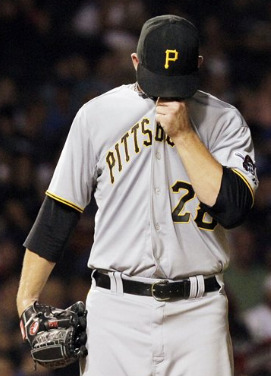 There could be a regime change in Pittsburgh, as a projected 109-loss season stares the
Pirates
in the face.
"I have been extremely disappointed in the team's performance,'' president Frank Coonelly
told Bob Nightengale
of
USA Today
. "We are evaluating every aspect of our operation in order to determine how we can get the club moving in the right direction immediately."
That includes assessing the work of GM Neal Huntington and manager John Russell, two with contracts through 2011.
The Pirates certainly expected a losing season in 2010, but not one that could be the team's worst since 1953, when the team went 50-104 for a .325 winning percentage. Pittsburgh is currently at 44-89 with a .331 winning percentage.
The team has an intriguing future ahead, with
Andrew McCutchen
manning center field,
Jose Tabata
in left and power-hitter
Pedro Alvarez
at the hot corner. Second baseman
Neil Walker
has also turned heads, but their decrepit offense still ranks near-last in the majors, thanks to the incoming rookies adjusting to big-league ball and some disappointing seasons by young veterans such as
Garrett Jones
and
Lastings Milledge
.
The pitching, on the other hand... is just as bad as the hitting. When a 4.07 ERA is the lowest of any starting pitcher with at least 11 starts, you know you're in trouble. No. a 4.07 ERA isn't terrible for
Ross Ohlendorf
, but it shouldn't be the best on the team. Speaking of the minimum 11 starts,
Charlie Morton
has exactly that number of starts with an unsightly 10.03 ERA attached to it. Nice.
"While we have made tremendous progress executing a sound plan to overhaul a broken system and return this once-proud franchise to its tradition of winning baseball, we have only one benchmark by which we measure ourselves and that is wins and losses at the Major League level," Coonelly adds. "By that benchmark, we have badly underachieved."
This is where things diverge between Coonelly and common sense. The last several seasons have featured a mass exodus of quality players -- players like Jason Bay, Xavier Nady, Freddy Sanchez, Adam LaRoche, Nate McLouth, Jack Wilson, Tom Gorzelanny, Matt Capps and Nyjer Morgan. (Although, at this point, Morgan may be addition by subtraction ).
No, these players weren't enough to get the Bucs to .500, but they certainly didn't exactly hurt the goal of .500 either. To dump all these players and replace them with fringe major-league veterans plus a bevy of prospects doesn't instantly translate to wins. A large number of these prospects either didn't pan out or are still in the minors, which was expected. Those that have reached the majors yet haven't produced instant results, but despite the sheer talent of NL rookies who have entered the bigs this year, rookies tend to have a learning curve. Is it any surprise, then, that the young major-leaguers have underperformed who they are replacing?
No, not really. So additional losses shouldn't have been a surprise. It's only when you go from a 95-loss team to a 105-plus loss team that it really crystallizes just how awful a team is.
"Our sole focus is determining why that is the case and making the decisions necessary to achieve our goal of giving Pirate fans winning baseball again as quickly as possible. '
As for the fates of Huntington and Russell, their culpability is less than clear. Huntington has done a fine job at building up a stable of prospects but also making a few curious moves. The Jason Bay mega-deal was a failure, as Brandon Moss nor
Andy LaRoche
have helped the team, while Bryan Morris is 23 and stuck in Double-A. Yes, Morris still has a chance to help, but even if he cracks the bigs as a solid starter or reliever one day, the return for Bay remains poor. In addition, the head-scratching move to dump Matt Capps in the offseason has completely blown up in Huntington's face as has the odd trade of Gorzelanny to the
Cubs
.
So no, Huntington hasn't been perfect. But he hasn't been awful, either. He has cobbled together strong drafts since joining Pittsburgh in October 2007 and is in the process of infusing the team with exciting young players. Other than Ohlendorf and Tabata, however, no external acquisition has worked out yet.
The judgment for Russell is less certain, and it seems all but a done deal that his head will roll after the season. After all, the manager is always the first to go. Huntington will likely get one more year to prove himself, but that's all he'll get -- so you may see a more aggressive general manager making moves in the winter.
--
Evan Brunell

For more baseball news, rumors and analysis, follow @cbssportsmlb on Twitter or subscribe to the RSS feed .