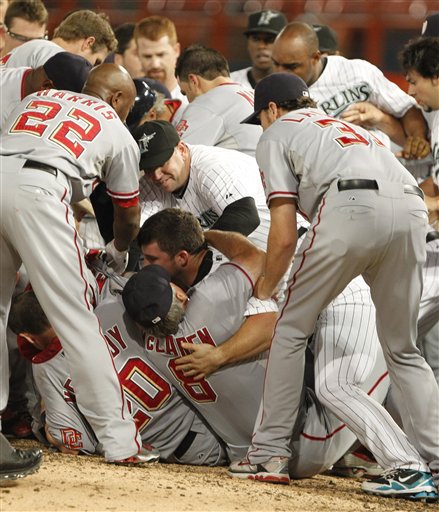 As far as the
Marlins
are concerned, their war with the Washington
Nationals
is finished.
The two teams will meet once more this season, Sept. 10-12 at Nationals Park -- and it's highly unlikely
Nyjer Morgan
will be around for that meeting.
Said Marlins third baseman
Wes Helms
to MLB.com
: "I know it's over for me. I hope it is for these other guys."
It seems nobody is too upset about the first time Morgan was hit in Wednesday's game -- not even Morgan himself.
What seems to be in debate is whether Morgan's two stolen bases after being hit in the fourth inning crossed the line. Most of the former players serving as commentators on MLB Network and ESPN all seemed to agree Morgan's two stolen bases escalated the disagreement.
Nationals manager Jim Riggleman told reporters (
via NatsInsider.com
) that he didn't see much of a problem.
"The Florida Marlins will not decide when we run. We will decide when we run," Riggleman said. "He felt that's the way I'm going to get my payback. Sometimes some guys get it in the form of going in hard at somebody at second base on a double play. I've seen that many times. But Nyjer took his revenge in the form of a stolen base. And I don't have any problem with it."
It seems that if you put a guy on base for free, you shouldn't complain about what he does when he gets there. The Marlins, apparently did.
Oddly enough, Marlins manager Edwin Rodriguez wouldn't admit to the fact
Chris Volstad
was throwing at Morgan in the sixth inning, even though it was obvious to everyone -- and even justified by some.
"Everything was resolved. We were trying to pitch inside," Rodriguez said. "We were still trying to pitch inside the third time he was up. He was playing his game, we were playing our games, let's put it that way."
Yeah, like trying to hit him.
Morgan then went after Volstad and there were actual punches thrown and one player (Volsted) left with blood on his jersey -- much different than most baseball brawl hug-fests.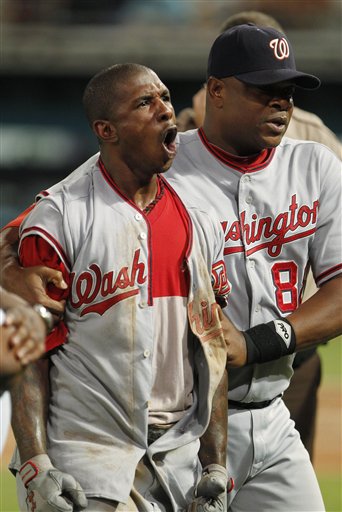 Morgan's had one heck of a bad week or so. Quick roundup: he was suspended for throwing a ball in the stands (even though he was
defended by a Philadelphia fan
), moved down in the lineup from leadoff to eighth, ran over
Cardinals
catcher
Bryan Anderson
, called out by his manager for the action,
benched
the next day,
called out his manager
for not having his back,
ran over a Marlins catcher
in a play that would have won the game had he slid instead of trying to bowl over the catcher,
a YouTube video of him cussing out a Marlins fan
showed up Wednesday, and then, you know, the whole fracas.
He also didn't help himself for the way he left the field -- taunting the fans like a hockey goon as he left the field. That's understood in hockey (Morgan played juniors hockey), but looked down upon in baseball.
What's interesting is that Morgan was brought to D.C. in a trade with alleged "bad apple"
Lastings Milledge
.
"People are going to have their own opinions," Morgan said after Wednesday's game (again,
from NatsInsider.com
). "I know what kind of player I am. I'm going out there balls out. I'm not going to go out there and take anything for granted. I'm going to show that I'm a hard-nosed ballplayer, and that's the way it is."
Morgan's teammates had his back on the field; in the clubhouse, it was a little more subdued.
"He's definitely done some things over the past couple of weeks that are a little questionable, I think," Washington's
Ryan Zimmerman
said. "We've all talked. Me and [
Ivan Rodriguez
] have talked to him. … He obviously has to learn a little more about the game. But you can't take away from how hard he plays. That's what he does every day. It's not like he's changed over the last week or two. That's the attitude, the way he's played ever since he's been here. That's who he is."
He'll also be suspended for a good while in the next day or so. You'd think his recent actions won't play well in his appeal, either.
One thing's for sure, people now know Morgan for more than just his awesome stirrups. Although, stylish hosiery may be a better claim to fame than hot-head problem child.
--
C. Trent Rosecrans

For more baseball news, rumors and analysis, follow @cbssportsmlb on Twitter or subscribe to the RSS feed .