Who knew that
Nyjer Morgan
's actions against the
Cardinals
Saturday might be the culprit for a Tuesday loss against the
Marlins
?
After
drilling Cards catcher
Bryan Anderson
with an elbow, Morgan found himself in the thick of another collision with a catcher -- but while this one may have been warranted, it still fired up the opposing team.
"The only thing that kind of fires you up is you've seen the way he's been playing the last week or so," Marlins third baseman
Chad Tracy
said of the play
to MLB.com.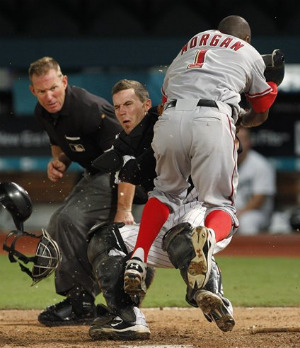 Morgan was on second base in the 10th inning of a 0-0 game with
Alberto Gonzalez
on first.
Adam Kennedy
hit a chopper to
Dan Uggla
at second, who flipped to
Hanley Ramirez
to double Gonzalez off second. Ramirez didn't throw to first, seeing he didn't have a chance to nip Kennedy.
Morgan, meanwhile, ripped around third and made a play for home. Ramirez double-clutched, then fired a high pitch to Hayes just as Morgan barrelled into the catcher.
"I didn't have a chance to get my legs under me," Hayes said, who left the game with an injured left shoulder. While X-rays came back clean, Hayes is due for an MRI on Wednesday.
"Obviously, [Morgan's] track record doesn't help himself -- somebody who does that is looking to hurt somebody," Hayes added. "But, you know, it's baseball."
"It was just one of those plays," Morgan said. "If I had slid, I probably would have hurt myself."
Perhaps, but sliding may have given the Nats the edge in the game.
"If he would have slid at home plate, he would have been safe," Marlins manager Edwin Rodriguez said, a sentiment Tracy agreed with. "Hayes was more on the right side of the plate."
Perhaps the true test of whether the play was clean or not came from Morgan's manager, Jim Riggleman. Riggleman was furious over Morgan's actions against Anderson, benching him Sunday and apologizing personally to Anderson and St. Louis skipper Tony La Russa. He would have no reason to mince words.
"He made the decision and I don't have any problem with his decision," Riggleman said, echoing the sentiment of everyone else involved that virtually any player would have barrelled into Hayes, even as they hesitated to say it was clean.
"I would have said it was clean, if I hadn't seen what he had done earlier in the week in St. Louis," Tracy noted. "But I think he had made his mind up when he came around third that he was going to hit him. You can't really get upset right there, because anybody could have made the decision to hit him."
The Marlins plan to recall an additional catcher now that rosters have expanded, although that likely would have happened regardless. Hayes doesn't expect to play for a while, saying his range of motion is not good.
Meanwhile, Morgan is quickly gaining a reputation that he'd be better served without. He engaged in a bit of
trash-talking with a fan
when taking the field in the bottom 10th, referring to the fan as a "fat bitch." Couple that with his pending seven-game suspension for throwing a ball at a Philadelphia fan last week (although a
Phillies
fan
wrote in to defend Morgan
), and one has to wonder what the heck is going on with Morgan.
UPDATE
: MLB.com's
Joe Frisaro says
Hayes has a separated shoulder. Surgery is not needed, but the rest of his season is done.
He also weighed in more specifically if he thought the hit was clean:
Obviously, we all know last week [against St. Louis] and what he tried to do. Put that aside, and it was a good, clean hit in my opinion. Do I feel if he had slid that he would have been safe, absolutely.

Do I think he decided to run me over as he rounded third, absolutely. That's my opinion. But in terms of the hit, I thought it was a clean hit. Nothing wrong with the hit. I just hope the intentions were good.
-- Evan Brunell
For more baseball news, rumors and analysis, follow @cbssportsmlb on Twitter or subscribe to the RSS feed .