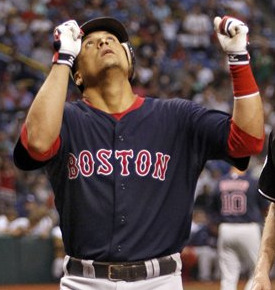 A loss to the
Orioles
dropped the
Red Sox
to eight games behind first place. Also seven games behind the wild card lead, it's all but over in Beantown for postseason aspirations.
For 2011 to be any better, GM Theo Epstein is going to have to pull some long hours, given that catcher
Victor Martinez
and third baseman
Adrian Beltre
are two of several pending free agents.
While Epstein has catcher
Jarrod Saltalamacchia
in the fold plus a motley crew of Triple-A veterans, Boston lacks a bona-fide starting catcher headed into next season. Aside from a scorching May and June, V-Mart's year hasn't been up to par with previous seasons, checking in at .294/.341/.467 in 414 plate appearances. Of course, that line is tremendously valuable for a catcher, especially one that has improved his defense lately.
The Red Sox have gotten a jump start on retaining Martinez, offering a two-year deal to the 31-year-old. That won't get anything done, but as Nick Cafardo of the
Boston Globe
reports,
the initial two-year offer
is simply to let Martinez know Boston wants to retain him. The only question is how many years and dollars to allocate to someone with yo-yoing offensive productions and plenty of questions surrounding how long he can last as a catcher.
Boston may view V-Mart as their first baseman, which would slide
Kevin Youkilis
to third base, theoretically to replace Beltre. That would leave Saltalamacchia as the incumbent behind the plate, a risky proposition. Salty is expected to get his fair share of playing time down the stretch, with Martinez logging time at first, in an attempt to prove to Boston he is ready to be a full-time catcher.
However, if both Martinez and Beltre are retained, the team could enter into a rotation with Martinez, Youkilis and Beltre grabbing time at DH to give Saltalamacchia a good amount of playing time. If
David Ortiz
returns to the Sox to DH, then Salty will just have to deal with being a backup catcher -- which would bring to a close the
Jason Varitek
era in Boston. Given how well Varitek was playing in his first full season as a backup, the Red Sox may not be prepared to end the Captain's tenure.
So if not two years, how about three? That appears far more likely, but Martinez might be able to squeeze a four-year commitment out on the market, with the
White Sox
and
Tigers
top contenders, and plenty of other teams in the mix. Even the
Yankees
could inquire, as
Jorge Posada
is largely finished as a catcher.
-- Evan Brunell
For more baseball news, rumors and analysis, follow @cbssportsmlb on Twitter or subscribe to the RSS feed .