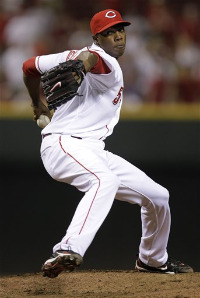 CINCINNATI – The attention was no doubt on the FM dial of pitch speeds from Cuban left-hander Aroldis Chapman in his big-league debut – 98.4, 86.4, 102.5, 86.9, 100.3, 102.7, 101.4 and 98.6. But catcher Ryan Hanigan wasn't talking about the fact Chapman threw four of his eight pitches faster than 100 mph or even that seven were for strikes.
Instead, it was the fourth pitch – the second slowest of the night – that caught his attention. It was a slider that started on the outside of the plate and ended up near the shoetops of Brewers catcher Jonathan LuCroy. Lucroy gave a soft wave at the pitch before heading back to bench having managed just a foul ball (which was in itself impressive, because he made contact with a 102.5 fastball), but had no chance when the next pitch was the slider.
"That thing … that pitch … that's a whole different ballgame," Hanigan said. "His breaking ball is what people should be talking about. His slider is absolutely ridiculous. He's got to be able to throw it for a strike and he's got to get into counts where we can call it. So getting ahead is big, but if he can throw that breaking ball for a strike … good luck. It's a hammer. I saw it in Triple-A. It's 88-to-93. It's moving about a foot and a half. That's not something that anyone wants to hit. I don't care how good you are."
Yet, it was an afterthought on Tuesday for Chapman's debut because of the velocity.
Rumored to have hit 105 in the minors, many wanted to see what was possible in a major-league stadium on a more accurate gun and the Pitch F/X system installed in each ballpark. The 102.7 registered on Chapman's final pitch to Craig Counsell was the prettiest girl in the school. Counsell grounded out weakly to short for the out and the 19,218 at Great American Ball Park saw exactly what they were hoping to see.
If home runs are what grabs attentions for batters, it's radar gun reading for pitchers. The triple digits had rarely – if ever – been seen in the seven-year history of Great American Ball Park, Chapman registered four triple-digit readings in his eight pitches.
The crowd chanted "we want Chapman" throughout the game, took pictures of the home team's bullpen and cheered loudly when he was shown warming up in the bottom of the seventh.
"I''e never seen anything like it," Reds closer Francisco Cordero said.
Cordero, no soft-tosser himself, said he'd never seen 102 on a scoreboard before. "I got that," he said, "in my Ferrari."
Chapman was asked about it afterwards.
"Once in a while I'll take a look and I see it, and yeah, I'm surprised, and I'm happy when I see what it is," Chapman said through translator Tomas Vera.
GM Walt Jocketty, the man who committed $30 million to the Cuban, was asked if he was impressed by that kind of velocity.
"Absolutely," he said with a smile.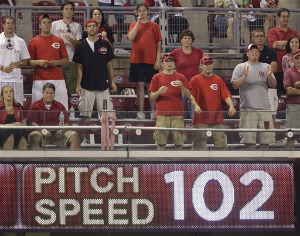 The Reds still plan on using Chapman as a starter in the future, but for now he'll be used much like the Rays used David Price in 2008 or, if all goes well, like the Angels used Francisco Rodriguez in 2002. The addition of Chapman gave an already confident team another energy boost – and it didn't hurt that the Cardinals dropped a fourth game in a row at the same time the Reds finished up an 8-4 victory over Milwaukee to push Cincinnati's lead to seven games in the National League Central.
"I think it's exciting for all of us, and it's very exciting for his teammates to see the electric stuff he has and the contribution he'll give this club throughout the pennant race and hopefully in the postseason," Jocketty said. "It's very exciting, I could tell by the reception he got when he went in the dugout, too."
This is just the first step – Chapman has struggled at times with command in the minor leagues and the trio of Lucroy, Counsell and Carlos Gomez is hardly Murderers' Row. But regardless of who the competition was – the number 102.7, plus seven strikes on eight pitches, bodes well.
"Big-league hitters can time fastballs, no matter how hard they throw," Hanigan said, "but with him, first of all, he's left-handed. Second of all, he's ass and elbows coming at you. He throws from a weird arm slot, it's not from over the top. It's got a little three-quarter action and he hides the ball well. The ball coming out of his hand that hard is a lot tougher than something straight because the ball's moving. It's running a little or cutting a little, which is obviously makes it that much tougher to hit."
Reds Frisbee-tosser Bronson Arroyo said he can imagine what it's like being a fireballer at a different level than anyone else. He was once there, when he was 9. He recalled parents pushing their kids up to the plate to face him.
Since he turned 10, Arroyo's lost some of that intimidation. He said the hard-throwers can always have a little bit of confidence when they know in the back of their mind if they're not sharp, they can reach back for something extra.
So what's the limit of the human body as far as velocity?
"I guess it's 105," Arroyo said.
We haven't seen it yet, but it seems like it may only be a matter of time.
--
C. Trent Rosecrans

For more baseball news, rumors and analysis, follow @cbssportsmlb on Twitter or subscribe to the RSS feed .