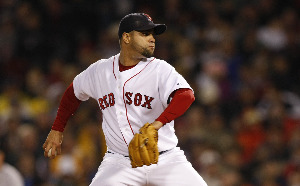 The
Red Sox
have traded hometown native Manny Declarmen to the
Rockies
for a prospect, multiple outlets report.
The Rockies finally get their hands on MDC, who was the sole reason the
Todd Helton
-Mike Lowell swap a few years back broke down when Boston refused to add Delcarmen into the deal.
Delcarmen has seen his star fade since, posting a 4.60 ERA over 103 2/3 innings split between 2009-10. From 2007-08, the righty boasted a 2.81 ERA in 118 1/3 innings. What went wrong? His strikeout rate tumbled, his walk rate shot up and he has started giving up home runs like his job. It was clear that Delcarmen would be nothing more than an unappetizing middle relief option to the Red Sox, so off he went for a prospect.
While some will say this means Boston is conceding the postseason race, as they find themselves 6 1/2 games behind first place and the Wild Card lead, but the reality is that any replacement Boston summons from Triple-A to replace Delcarmen will approximate MDC's numbers. The team hasn't lost anything.
Can Delcarmen snap out of his two-year funk where he's lost control and the bite on his pitches? Absolutely, and moving to the NL will help. Delcarmen has been considered a potential closer in the NL in the past, and he could easily see a resurrection much like
Ramon Ramirez
did in San Francisco when dealt by Boston at the trading deadline.
Unlike the return for Ramirez, an average minor-league reliever, the return the Red Sox received for Delcarmen is of such quality one has to wonder what the heck Colorado was thinking.
Chris Balcom-Miller was a sixth-round pick out of the 2009 draft and played for the Rockies' rookie league, flashing a 1.58 ERA in 11 starts. He walked just 10 and whiffed 60 in 57 innings, but didn't crack anyone's list of top prospects. That may change as 2010 has been excellent for the 21-year-old with a 3.31 ERA in 19 starts for mid-Class A, striking out 117 and walking 19. For those counting, that's a 177/29 K/BB ratio since being drafted. That kind of live arm and command doesn't come around often with three solid offerings (fastball, change, slider) and a 58.8 percent groundball rate. Balcom-Miller's fastball averages around 91-92 mph, so may not be anything more than a strong back-of-the-rotation starter or setup man, but since when is that a bad thing? And of course, it's possible Balcom-Miller could add velocity as he grows into his body.
So why did the Rockies trade Balcom-Miller? It's a good question. One possible thought is that the righty Miller is dominating against competition that may not be age-appropriate at 21. The Red Sox aren't promoting him, instead assigning him to their own mid-Class A affiliate. In addition, the Rockies may have inside information about Balcom-Miller that downgrades him in their eyes... or it could simply be a matter of being so desperate for a reliever -- not to mention one they've coveted for a while -- that Colorado bit down and moved one of their more intriguing arms to make a play for the postseason.
Colorado may feel like a winner right now as they get the coveted reliever they feel they need to aid in the push for the postseason, but it's hard to imagine Boston not coming away with the last laugh.
--
Evan Brunell

For more baseball news, rumors and analysis, follow @cbssportsmlb on Twitter or subscribe to the RSS feed .