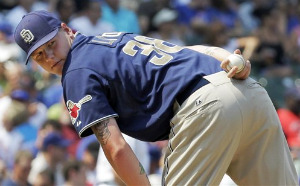 With seven wins in their last eight tries, the
Rockies
suddenly find themselves seven games out of the division and just 3 1/2 games behind the
Phillies
for the wild card.
Seven games may seem like a lot of ground for the Rockies to make up, but the
Padres
have been skidding as of late, losing five in a row which has allowed the
Giants
to stay in the hunt (1 1/2 games out of the wild card, five out of the division) and the Rockies to catch up.
The
Dodgers
also consider themselves in the wild card race (5 1/2 games out, 9 out in the division), which should make September a very interesting month.
A late-season surge by Colorado is nothing new, but compound that with San Diego's slide and it's entirely possible the Padres could end up on the outside looking in during the postseason.
A big stretch to say for a team with a seven-game cushion? OK, perhaps the
Mets
have spoiled us all with late-season collapses, but the Padres certainly appear a team with a tenuous grasp on first place.
For starters, despite the team's success, this is still a team who was projected by many to finish dead last in the standings. There were reasons for that, ranging from an anemic offense to an unimpressive crew of starters behind phenom
Mat Latos
.
And all those still exist, obscured by a lockdown bullpen and the acquisitions of
Miguel Tejada
and
Ryan Ludwick
. Those two acquisitions have gone a long way to upgrade San Diego's offense from mediocre to passable, but the bread and butter of October success -- starting pitching -- is still questionable as to how effective it can be, not just in October but down the stretch.
While the Padres lead baseball in xFIP with a 3.86 mark, they also have one of the largest splits between xFIP and ERA, with ERA checking in at 3.33 which also paces baseball. That ERA has slowly risen as the year has gone on, regressing to the mean. The pitching is no longer hiding any warts.
Ace Mat Latos (pictured) is already comfortably past the amount of increased inning restrictions teams tend to put on young pitchers. Latos could run out of gas at some point or get injured, whether in September or October as it's a dangerous bit of ground the Padres are currently navigating with the righty.
Clayton Richard
is another young pitcher who is extending his innings pitched beyond normal thresholds, on top of being a pitcher with disparity between his ERA and xFIP.
Then you have
Jon Garland
, a veteran pitching way over his head and two additional young pitchers with innings-pitched and effectiveness complications. It's easy to see how things could completely blow up in the Padres' face, having to shut down young pitchers and seeing massive regression from all overperformers to date.
It's quite unlikely for a perfect storm of regression to suddenly rear its head, but even a small amount of regression, as we're seeing currently, could be enough to drop the Padres into a NL West/wild card battle.
--
Evan Brunell

For more baseball news, rumors and analysis, follow @cbssportsmlb on Twitter or subscribe to the RSS feed .