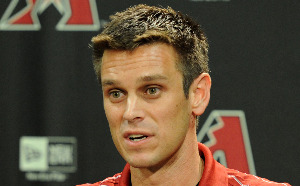 The Arizona
Diamondbacks
are beginning the process of finding their new general manager,
reports MLB.com
.
The goal is to find a permanent GM by the end of September, president Derrick Hall said, noting that interim GM Jerry DiPoto (pictured) would get consideration for the gig.
"Jerry's done a great job for us," Hall said, naming him a top candidate due to his work since taking over on July 1, shipping out
Dan Haren
and
Edwin Jackson
as part of his efforts to retool the club.
Hall wants to interview five to 10 candidates, likely to include ex-Padres GM Kevin Towers who is currently working for the
Yankees
.
While Hall has a list of candidates available, he can't simply talk to anyone he wants -- teams have to grant permission to talk to executives under contract with another organization. Generally, it is not a roadblock but it may be given that opposing teams may not want to lose a vital part of their staff while the season is ongoing.
Hall is expected to talk to Yankees vice president of amateur scouting Damon Oppenheimer, who has skyrocketed up potential GM lists as of late and
Dodgers
assistant GM Logan White. Internally, the club may also speak to assistant GM Peter Woodfork, although it's unlikely Woodfork would vault over DiPoto.
Throughout the interview process, Hall will seek someone who knows the organization well. "I'm hoping with every candidate will come in here with a plan of what they would do as our general manager, not just general vagueness," Hall said.
"I'm looking for someone who has a good balance of evaluation and business sense as well, someone who is a good negotiator. Someone that values scouting and player development and someone who knows how to get the most out of a payroll in a mid-sized market."
Frankly, that sounds just like Kevin Towers, who was dumped from the Padres despite finishing in first from 2005-06, then having to slash payroll from a 2008 mark of $73.6 million to a 2009 payroll of $43.7 million. Towers then worked on slashing more -- including trading Jake Peavy late in 2009, for an eventual 2010 payroll of $37.7 million.
And throughout this slashing, the Padres are currently first in the division with Towers' fingerprints all over the team. Dealing with getting the most out of a payroll certainly isn't a concern as well as Towers' unparalleled evaluation skills.
Whoever the new GM is, he will have a challenge on his hands with several players up for arbitration due hefty raises plus a rotation to fill out, bullpen to reconstruct and some holes on offense that will have to be filled. Arizona's squad has the talent to win quickly -- but much of what the new GM does in the offseason will dictate the performance of the Diamondbacks in 2011.
--
Evan Brunell

For more baseball news, rumors and analysis, follow @cbssportsmlb on Twitter or subscribe to the RSS feed .