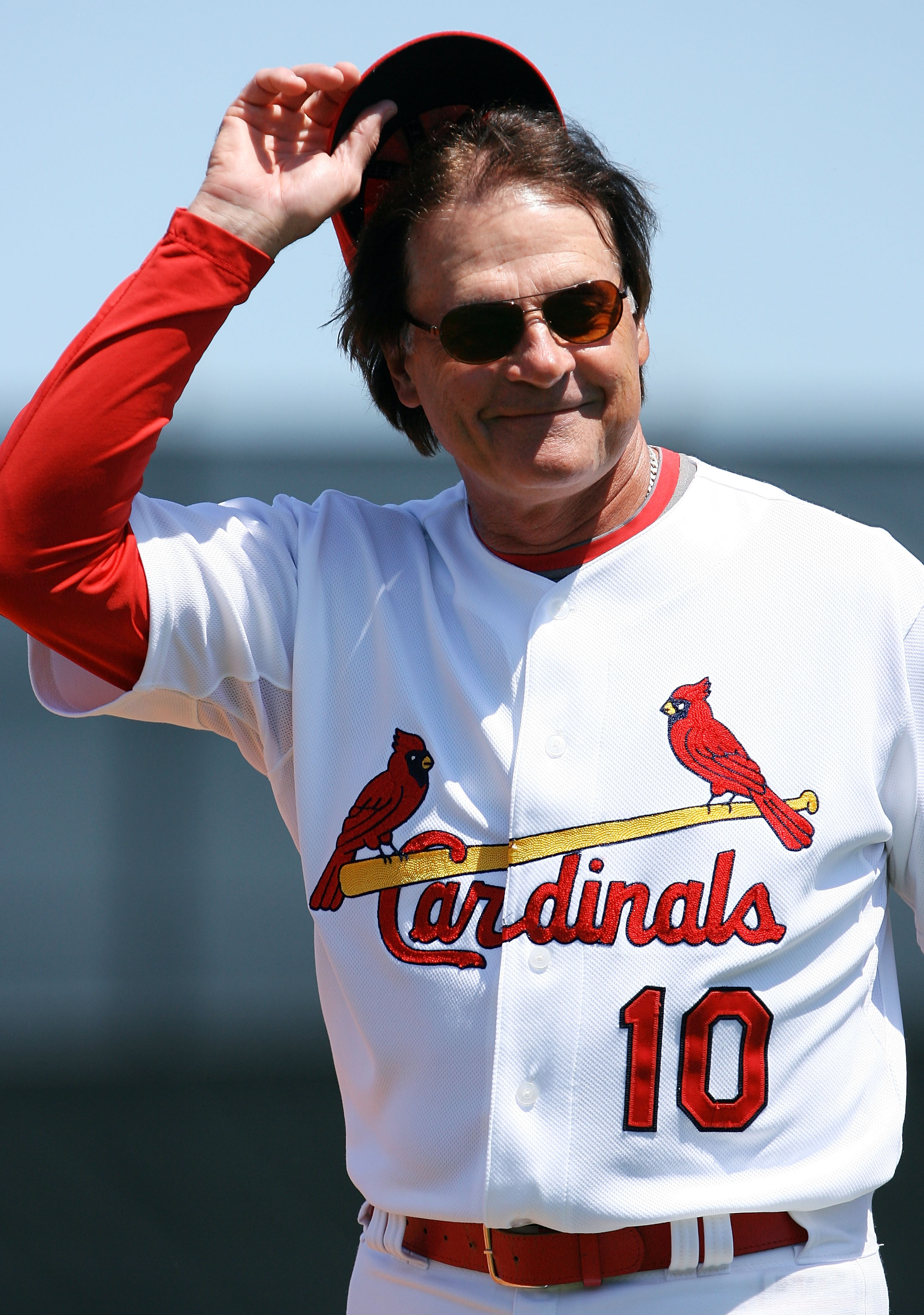 Since
Brandon Phillips
has stopped talking, apparently Tony La Russa and the
Cardinals
need something else to motivate them -- you know, besides a playoff spot and professionalism. So La Russa (maybe it
is
hate on
Tony La Russa Day
here at CBS F&R) went back to junior high for his latest attempt at motivating his troops.
Derrick Goold of the St. Louis Post-Dispatch tweets (
@dgoold
):
#Cardinals all gathered around to watch each player get head shaved. Solidarity by buzz cut. #stlcards
Maybe next is a cutout of Bill DeWitt and La Russa will remove a piece of clothing with every win.
This comes as Buzz Bissinger, who wrote a fawning book over La Russa, tweets (
@buzzbissinger
):
TLR doesn't like Rasmus. Thinks he is lazy. But Tony has lost interest in baseball. And his team reflects it. No one lasts forever.
Bissinger, in follow-up tweets notes he no longer speaks to La Russa and his observation is purely that, not from anything La Russa has said to him.
So maybe this is the latest stunt to say the team really is interested in the rest of the season -- off the field at least.
Since St. Louis' sweep in Cincinnati to retake first place, the Cardinals have gone 5-10, with their only winning series against the only winning team faced during that stretch -- the
Giants
. The rest of the games were against the
Cubs
(1-2),
Brewers
(0-2),
Pirates
(1-2) and
Nationals
(1-3) -- teams with a combined .414 winning percentage. The
Reds
, on the other hand, have gone 11-4 since the sweep, including a seven-game winning streak immediately following the sweep.
The Cardinals are 10-5 against the Reds this season, but only have three games left against them. The rest of their series are against the
Astros
, Brewers,
Braves
, Cubs,
Padres
, Pirates and
Rockies
. St. Louis is 26-26 this season against those teams.
The Reds' remaining series are against the Brewers, Rockies, Pirates,
Diamondbacks
, Astros and Padres. Cincinnati is 25-11 against those teams so far this season and lead the Cardinals by five games. As
John Fay of the Cincinnati Enquirer notes
today, if the Reds play .500 baseball down the stretch, they'll finish at 91-71. The Cardinals would need to go 22-12 the rest of the way to force a playoff. That's not impossible, but it's certainly better than the Cardinals have played since
the Phillips affair
.
If it comes down to the close shave of the late season, it appears the Reds may have the advantage.
--
C. Trent Rosecrans

For more baseball news, rumors and analysis, follow @cbssportsmlb on Twitter or subscribe to the RSS feed .