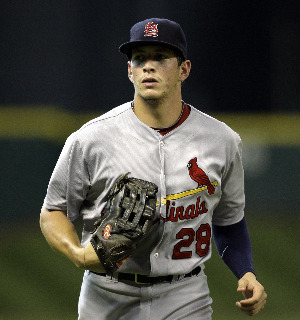 Not that today is "pile on Tony La Russa day ," but...
Really, what is up with the Hall of Fame manager these days?
Rasmus has not started a game since August 15, missing time with a lower leg strain. After missing several days and remaining on the roster, Rasmus finally was cleared to return to action on Sunday, which is quite a while to recuperate from a strain, which may have irritated La Russa during the Cardinals' 5-11 skid that has dropped them to five games behind the Reds for the NL Central Division lead.
Given the 24-year-old has 19 dingers in 403 plate appearances to go along with a .268/.352/.501 mark, one would think La Russa would hurry to get Rasmus back in the lineup, even though Rasmus has been occasionally benched this season for no particular reason. In Rasmus, the Cardinals have a five-tool, young player who could morph into a star, who is already one of the better hitters on the team including being a solid defender.
Yet, La Russa chose to hold him out of the lineup Sunday, saying he wasn't comfortable with Rasmus playing in a game where Rob Drake was the home-plate umpire. This is a ridiculous assertion. There are plenty of players that don't get along with certain umpires, and that rarely impacts their playing time.
Bernie Miklasz of the St. Louis Post-Dispatch notes that La Russa and Rasmus have had a fractious relationship, largely due to La Russa's own demands and Rasmus' lack of maturity, of which many young players go through -- Matt Kemp and his own clashes with coaching staff spring to mind.
La Russa said that he believes Jon Jay has a better understanding of how to play the game -- never mind that Jay's talents pale in comparison to Rasmus'. Yes, the Cardinals traded Ryan Ludwick to free up more playing time for Jay, but the trade was also to clear space for Rasmus in addition to Ludwick bring the price to land starter Jake Westbrook.
And yet, Rasmus won't play -- perhaps for a perceived notion by La Russa that the center fielder is lazy, as Buzz Bissinger tweeted Sunday. Bissinger is best known for being the author of Friday Night Lights and wrote a book about La Russa titled Three Nights in August .
Not only did Bissinger tweet that, he mentioned La Russa "has lost interest in baseball. And his team reflects it."
La Russa's contract is up after the season and is in his 32nd year of managing, 15th with the Cardinals. He has an even 4,900 games under his belt heading into play Monday and is 142 wins away from second place on the all-time wins list, with John McGraw in his way. First place is Connie Mack, and La Russa has zero chance of catching Mack's 3,731 victories.
If La Russa wants to chase a milestone, that will require his return to the bench in 2011 in addition to a strong performance by the team. It's doubtful any team but the Cardinals would allow La Russa to tack on one more year, so if he wants to dethrone McGraw, it'll be with the Cardinals ... and with Colby Rasmus, unless Joe Strauss of the Post-Dispatch is correct that there is a growing feeling that the 2011 Cardinals will have one of La Russa or Rasmus... not both.
If it comes down to that, there shouldn't be any hesitation on St. Louis' part of who to pick. Rasmus has the better long-term value to the franchise, while La Russa is near the end of his career. Even as good as La Russa has been -- and he deserves all the credit in the world for the amazing career he has put together -- there is no denying that time marches on, and Rasmus is only beginning what figures to be his own productive career while La Russa should start drafting his acceptance speech into the Hall.
--
Evan Brunell

For more baseball news, rumors and analysis, follow @cbssportsmlb on Twitter or subscribe to the RSS feed .