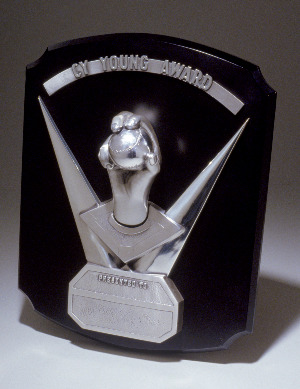 As August draws to a close, the candidates to win awards are beginning to take shape. The AL Cy Young is shaping up to be quite a race with several young pitchers in contention for the award.
Young pitching has taken the majors by storm lately, so it's only fitting that some new names enter the Cy Young race for the first time, spearheaded by
Clay Buchholz
and
Trevor Cahill
, although the wizened, grizzled, 30-year-old
CC Sabathia
may have something to say about who grabs the hardware.
One of the more difficult things to do in properly evaluating the winner of a Cy Young race is to figure out which metrics to look at. ERA has become a rather maligned statistic lately, although when evaluated in its sole function, is a great barometer of what a pitcher did with a specific team in a specific park in a specific year. And given awards tend to be all about what actual production was, one could argue that ERA is a primary indication of a player's performance.
However, there's also Fielding-Independent Pitching (FIP) which strips out most variables, giving you a better indication of a pitcher's true talent, focusing mainly on strikeouts and walks. xFIP normalizes homer rate, which gives you an idea of a pitcher's true talent with all variables stripped out, including home and road ballparks. What FIP and xFIP primarily do is give one an idea of what is most likely to happen from here on out in a pitcher's production.
So you have two metrics: one evaluating what actually happened, and one evaluating a pitcher's actual production. Given awards aren't about long-term success and are specifically geared to one-year wonders, whether aberrations or not, ERA shouldn't be eliminated from the evaluation process. Discounted, sure, but not eliminated.
One thing that can be eliminated, however, is wins and losses. Those have absolutely no bearing on a pitcher's effectiveness, and the voting process is starting to realize the foolhardiness of voting for wins as 2009 Cy Young victor
Zack Greinke
can attest to with a 16-8 record.
Without further ado, your top AL Cy Young candidates in alphabetical order:

Clay Buchholz
Boston Red Sox
15-5, 146 2/3 IP, 101 K, 55 BB, 2.21 ERA, 4.19 xFIP
Buchholz has been a revelation for the Red Sox this season, taking the next step toward being a front-of-the-line rotation member. After struggling with inconsistency -- both mechanical and mental -- over the last few seasons, Buchholz has finally found himself comfortable on the mound and that's translated to results. He has done very well in inducing soft contact that defenders can gobble up, but it's not entirely positive yet whether that's a repeatable skill or simple luck. It's probably a combination of both. Buchholz has the easiest road to victory, with a commanding ERA and a wins ledger that should crack 18 provided the 26-year-old doesn't fall apart down the stretch.

Trevor Cahill
Oakland Athletics
14-5, 155 2/3 IP, 88 K, 46 BB, 2.43 ERA, 4.12 xFIP
Unlike Buchholz, Cahill doesn't have the gaudy strikeout numbers which will harm him in a campaign otherwise remarkably similar to Buchholz. He has a ton of BABIP-fueled luck, largely because of the spacious park he calls home and the strong fielding corps behind him. Cahill figures to eventually morph into one of the better starters in the league, but at least for 2010, his success is based on a house of cards as he has no reliable strikeout pitch and doesn't force batters to chase pitches out of the zone.

Felix Hernandez
Seattle Mariners
10-10, 204 1/3 IP, 192 K, 56 BB, 2.47 ERA, 3.26 xFIP
Now we're getting into people with truly dominating statistics. Hernandez has already broken the 200-inning barrier with over a full month to go. That's all sorts of crazy, as is his K-rate a certainty to break 200. He's combining that with strong command, but his win-loss record sets him back, especially in an environment where a fair share of voters still value wins and losses. Such are the perils for playing for one of the worst teams in the majors, and a historically-bad offense.

Cliff Lee
Texas Rangers

10-8, 179 2/3 IP, 156 K, 12 BB, 3.26 ERA, 3.26 xFIP
The 2008 Cy Young champion still has a strong chance at taking home the hardware, but his time so far in Texas hasn't been Cy-worthy. He has a 4.50 ERA in Texas, although his xFIP is still in the low 3.00's. A big reason why is the increased clip in home runs allowed which may be due to his new home park. His win-loss record leaves a lot to be desired as well, largely due to his turn in Seattle. Let's take a moment, however, to appreciate how good Lee has been: a low xFIP exactly the same as his ERA not only shows just how good he's been, but that he's pitched well without much luck, unlike Buchholz and Cahill. In addition, the 12 walks allowed is not a typo. Lee is this author's top choice for the Cy.

David Price
Tampa Bay Rays
15-6, 164 2/3 IP, 154 K, 65 BB, 3.01 ERA, 3.98 xFIP
Price doesn't have much over Buchholz and Cahill, although he's been decidedly less lucky which is reflected in ERA. The difference in xFIP is marginal enough that makes one wonder if there's any reason he should stand over Buchholz and Cahill. Remember, not only are we looking for true talent, but we're also looking at what a pitcher actually did, luck and randomness included. Lee and Hernandez have the most compelling cases so far, win-loss record be damned, but Buchholz and Cahill hold the edge otherwise.

CC Sabathia
New York Yankees

18-5, 194 2/3 IP, 160 K, 62 BB, 3.14 ERA, 3.83 xFIP
Sabathia has changed his game lately, inducing more groundballs while keeping the rest of his game constant. As a result, batters are making less hard contact off of Sabathia, and with a powerful Yankees team behind him, dominates the wins ledger with 18. His ERA is low enough and overall durability high enough that he presents a legitimate challenge for the top spot with strong cases in every category. No other pitcher on the list has the blend of wins, innings, BB/K, ERA and xFIP than Sabathia, which may be all that's needed to claim the award. The best chance to keep the trophy away from a member of the Yankees may rest in their division rival's Buchholz. If that ERA stays rock-bottom through the end of the season, that ERA plus what figures to be around 18 wins should present a compelling enough case to win the award. Until then, however, Sabathia has to be considered the favorite.
Just missed the cut:
Jon Lester
,
Francisco Liriano
,
Jered Weaver
,
C.J. Wilson
--
Evan Brunell

For more baseball news, rumors and analysis, follow @cbssportsmlb on Twitter or subscribe to the RSS feed .