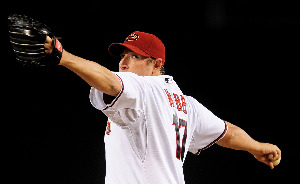 September is around the corner, and
Brandon Webb
still hasn't appeared in a major-league game since undergoing surgery to repair his right shoulder's labrum.
The injury was suffered in early April of 2009, meaning Webb has essentially missed two full seasons -- but a simulated game Saturday gave the team confidence the one-time ace could pitch for Arizona in 2010.
"It looks to me like he's going to pitch," pitching coach Mel Stottlemyre Jr.
told the Arizona Republic
. "It really does. I couldn't say that a month ago."
Webb struggled with command and didn't flash a strong curve, but came away pleased with the hop his fastball had to it. While a low-80s fastball doesn't lend one to confidence, Webb feels he can get the fastball to 85-mph, which is just below his normal velocity. Once he gets into a regular pattern of pitching, he believes he should return to his normal 88-mph fastball that complements his devastating sinker.
"It was a big step today," Webb said. "I kind of impressed myself. I didn't know what to expect, and I'm really pleased with it."
Webb's goal is to throw two to three more simulated games and then could possibly appear out of the bullpen for the Diamondbacks in the last few weeks of the season.
Why the sudden reversal of fortune?
In the past, Webb's pitching motion involved a hesitancy that cropped up just as he was about to release the ball, hampering his velocity. No longer is that the case.
"Today, it looked like the old Webby's arm path," Stottlemyre said. "The ball had a little life, and he wasn't thinking about that little hesitation that he's had. Whether it was due to hitters there and him not thinking about mechanics and more thinking about approach and getting guys out."
Webb won the Cy Young award in 2006, going 16-8 with a 3.10 ERA in 33 starts. He finished second in the next two years before he lost two years to injury. It's anyone's guess Webb returns to the pitcher of old, but it may not happen in Arizona.
Arizona exercised the $8.5 million club option on Webb's deal after 2009, tying him and the D-Backs together for another year. However, Webb will hit free agency, opening himself up to the highest bidder. While he won't get a deal with a strong base salary after seeing much of his 2010 season torpedoed, he'll likely have a ton of incentives packed into the deal. Depending on the base salary and amount of incentives, that may take Arizona out of the running.
One thing in 'Zona's favor is the team is dropping from a $75 million payroll to just $20 million guaranteed for 2011. That figure will rise once arbitration figures are factored in, but the team should still have plenty of flexibility financially if they are committed to keeping Webb in red and gold.
--
Evan Brunell

For more baseball news, rumors and analysis, follow @cbssportsmlb on Twitter or subscribe to the RSS feed .