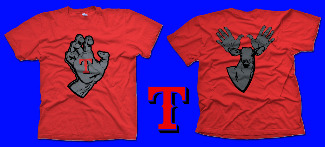 Prepare yourself for the 2010 version of the Rally Monkey, this year's Homer Hanky. Sure to be yammered about during playoff telecasts until you want to punch Joe Buck in the throat, it's the
Rangers
' "claw and antlers."
The Rangers have been wearing shirts with a hand in a claw position on the front and a deer head with hand antlers on the back. Teams routinely have T-shirts printed to wear around the clubhouse featuring inside jokes.
Texas fans, who are really starting to get fired up about this team, are going nuts trying to get their hands on the shirt. There are already knockoffs out (this photo is from a Craigslist ad), and the team is hustling to clear licensing hurdles and get official shirts out ASAP.
Why the claw and antlers? They're hand signals the team has developed over the season to deliver light-hearted encouragement. A Ranger who does something speedy -- stealing a base, stretching a single into a double -- can look into the dugout and see teammates holding up the antlers (because deer are fast). The claw is for displays of power like home runs (apparently it's a bear claw, and bears are strong).
"I know that many think 'the claw,' 'the antler' ... are dumb," pitcher
C.J. Wilson
recently wrote
on his blog. "But these hand signals during the game just go to show how much fun these players are having together. They push each other and show nothing but support for every single player on the team."
By all accounts, the Rangers clubhouse has the loose, confident feel that great teams carry. And remember, this is a franchise that has never so much as won a playoff series since moving to Arlington in 1972. However you feel about the claw and antlers, the Rangers are turning into a real feel-good story.
--
David Andriesen

For more baseball news, rumors and analysis, follow @cbssportsmlb on Twitter or subscribe to the RSS feed .