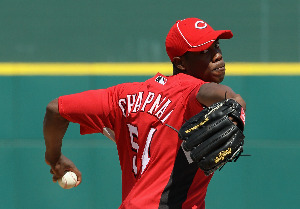 There's already plenty of excitement in Cincinnati -- and in baseball circles -- about the impending arrival of Cuban sensation Aroldis Chapman in the major leagues on September 1. Recent reports have ratcheted that excitement up a step.
Chapman, who has flourished since being moved to the bullpen, allegedly hit 105 mph on the radar gun Friday night for Triple-A Louisville. Yes, 105.
It's one thing for a minor-league team to report that -- things like this draw fans, and in-stadium radar guns are generally not to be relied upon. But MLB Network's Peter Gammons said (via
Twitter
) a top scout who was at the game (and most likely had his own gun on the left-hander) told him Chapman was throwing 98-105 with his fastball and adding a 91-mph slider. The scout said he had the "best velo [velocity] I've ever seen."
There are no official records kept for pitch speeds, and if you ask about the fastest pitch ever, you get a million different answers and anecdotes that can't be proven accurate. It's a rich subject for tall tales. You can read some background on the history of some of these stories through
baseball-almanac.com.
No matter the exact number, it's obvious the 22-year-old has some seriously dominating stuff. Until the inevitable day his arm snaps off, he's going to be fun to watch
--
David Andriesen

For more baseball news, rumors and analysis, follow @cbssportsmlb on Twitter or subscribe to the RSS feed .