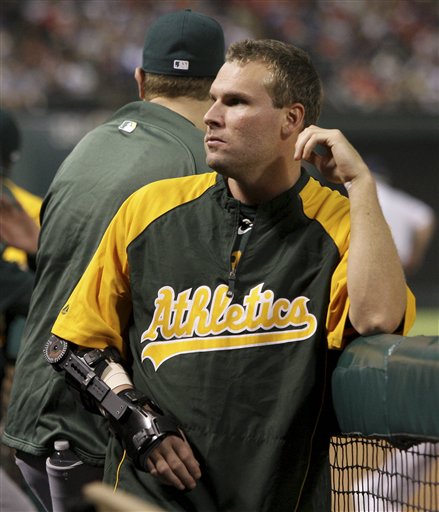 Speaking of Tommy John surgery…
Ben Sheets
told reporters on Friday that he doesn't know if he'll be able to pitch again.
Sheets, 32, underwent Tommy John surgery earlier this month. And when he was asked about
Stephen Strasburg
's upcoming procedure,
Sheets told the San Francisco Chronicle
, "I wish that's all I had."
In addition to Tommy John surgery on Aug. 9, Sheets also had the flexor and pronator tendons in his elbow repaired at the same time as the ulnar collateral ligament.
"They fixed it all," Sheets said. "It doesn't add more time to the rehab. It makes it tougher to come back from, the more stuff you have."
Sheets said he had a tendon taken from his hamstring, not his non-throwing arm, as is usually done. The tendon in his left arm was too small, so doctors went to his leg before taking a hamstring tendon.
Sheets signed a one-year, $10 million contract with the A's before the season. He started 20 games, going 4-9 with a 4.53 ERA. Sheets will be a free agent after the season, which makes his comeback a little tougher because he won't have access to a team's training staff and facilities.
I talked to a pitcher earlier this season that was given a minor-league deal for next season after he underwent Tommy John surgery and was ecstatic -- he said he'd have had to retire if he didn't sign with a team. He was more of a fringe big leaguer and not someone like Sheets, but the point still stands -- even if it's less extreme for someone who has made more than $52 million in his carer.
For now, Sheets is hanging around the A's and mentoring some of the team's young pitchers. But he doesn't know what's going to happen after the season ends.
"If my arm heals and feels great, I'm going to give it a shot,"
Sheets told the San Jose Mercury News
. "But that's up in the air, it really is."
--
C. Trent Rosecrans

For more baseball news, rumors and analysis, follow @cbssportsmlb on Twitter or subscribe to the RSS feed .