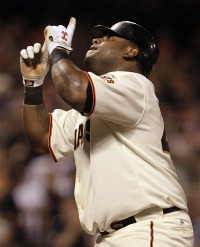 One is too big, the other too small.
And
Giants
manager Bruce Bochy said both of his young stars,
Pablo Sandoval
and
Tim Lincecum
, need to get into the gym. The skipper made some frank comments Wednesday about how failure to be in shape has affected them.
"In this game, I don't think players should ever feel they've arrived," Bochy told the San Jose Mercury News. "They should always seek to improve. And not only in how they play, but what kind of shape they're in."
In Sandoval's case, that shape is round. "Panda" is a catchy nickname, but you don't want a panda playing third base -- which, given the 24-year-old's increasing size and decreasing range, he might not be able to continue to do for long. A move to first could be in his future.
Sandoval went through a "Camp Panda" program in Arizona last winter, attempting to slim down, but it didn't seem to take. He was listed at 262 pounds to start the season, though that number is simply whatever the team chooses to submit.
Bochy hinted that there might be a tough trainer on retainer to push Sandoval, who batted .330 last year in his first full season but has seen that drop to .276 this year, through next winter.
"Pablo and I will talk about that," Bochy said, smiling. "We may have somebody in mind already. That all will be addressed when the season is over."
Lincecum's delivery requires that he remain lithe and flexible, but the issues for him are cardiovascular conditioning and lower-body strength.
Phillies
pitcher
Roy Oswalt
, also a power guy of relatively slight stature, told the
San Francisco Chronicle
that Lincecum's drop in velocity had to be a conditioning issue and that pitchers like them "
have to do twice the work a bigger guy's going to do."
"With Timmy, it's all strength and stamina," Bochy said. "But I'll say this: He's taken responsibility already for putting in more time and effort into his workouts. He's been spending more time in the weight room. He's got a routine. But that has to carry throughout the offseason, too."

The manager is hopeful that the struggles of the young duo have served as a wakeup call about the importance of conditioning.


"They are two young players with special gifts and talents," Bochy said. "But you still have to work at all parts of the game, and that includes conditioning. Sometimes you learn in your second or third season how important that is. Players realize how hard they have to work to continue the level of performance they want to play at."
--
David Andriesen

For more baseball news, rumors and analysis, follow @cbssportsmlb on Twitter or subscribe to the RSS feed .