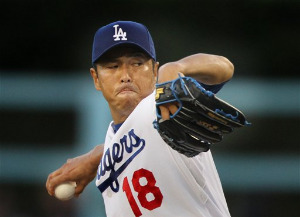 A "rival executive" said after the
Dodgers
reportedly
put starter
Hiroki Kuroda
on the waiver wire Tuesday that "I guarantee [the]
Yankees
are all over it."
Not so much, at least according to general manager Brian Cashman.
"I haven't thought about him. I don't even know if he's on waivers yet," Cashman
told
ESPNNewYork.com on Wednesday. "Besides, I'd be hard-pressed to find a pitcher on the waiver wire who can pitch better for us than
Dustin Moseley
has."
In fact, Cashman said he's not shopping for any help at all.
"What we got is what we're going with," Cashman said. "I anticipate we are going to use the alternatives we have here."
Cashman might not have much of a choice, especially when it comes to National League players, considering that every team in baseball gets a shot at a player placed on waivers before the Yankees. Any player in either league would have to get past the
Rays
, with whom New York entered the day tied on top on the AL East.
The Yankees' only chance to add is with a player so overpriced nobody else dares to file a blocking claim. Kuroda -- 35 years old, 8-11 with a 3.48 ERA, and due $2.7 million the rest of the season -- seems like he could fit the bill. It's not clear when the rumored placement of Kuroda on the waiver wire took place, but presumably he has cleared, or Cashman made a mistake by making it known nobody needed to bother to block him. Or Cashman is lying, wants Kuroda, and is hoping to dissuade another claim.
"I'm not even thinking along those terms because right now I'm not interested in adding anyone," Cashman said. "I like the team we have and I think we have what it takes to get the job done.
-- David Andriesen


For more baseball news, rumors and analysis, follow @cbssportsmlb on Twitter or subscribe to the RSS feed .