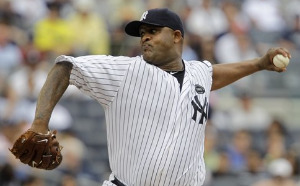 For those hoping CC Sabathia would exercise his player option to leave the Yankees after 2011, your hopes have been dashed.
"I'm here," Sabathia told the New York Post . "Hundred percent."
Sabathia has built a home in the Bronx and his children are settled in at school. The family lives in New York year round, which is a rather stark departure from the common perception Sabathia had no interest in going to New York and only did so because of the massive financial outlay. That player option was supposed to be his out clause. And now, he won't "even consider" the prospect of leaving.
Sabathia may yet eventually use that player option as leverage to command an extension, as he will have four years and $92 million remaining on the deal. Sabathia will be 31 when the player option comes up. Given the volatility of pitching, Sabathia would be best served to leverage that deal into a larger one to stay in New York, much like Alex Rodriguez opted out of his 10-year, $252 million deal signed in 2000, opting out after 2007. He parlayed that into a new 10-year, $275 million pact with $30 million in easily-attainable bonuses.
The Yankees certainly must be happy that Sabathia is staying in town. In his just-under two years in town, Sabathia has a 36-13 record and 3.21 ERA in 61 starts covering 417 2/3 innings. The big lefty has been everything New York hoped for and more.
And he's definitely comfortable in New York, running a 15-0 record in his last 20 home starts with a 2.17 ERA.
"You can give my wife credit for that, I guess," he said. "Her cooking. And just being at home, being around my family and going out and being able to be relaxed.
"It's just one of those things. I love being home. I love playing in The Bronx. I love being at Yankee Stadium. But just one of those things that worked out like that."
Yeah, worked out for everyone but those living in New York.
-- Evan Brunell
For more baseball news, rumors and analysis, follow @cbssportsmlb on Twitter or subscribe to the RSS feed .