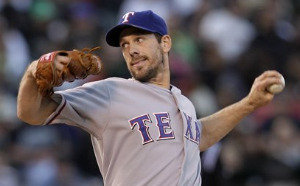 On Monday, ESPN personality Colin Cowherd said
Cliff Lee
hated Texas and would prefer to be a Yankee. He also said Lee purposely mailed in a start against the
Orioles
, causing the
Rangers
to lose.
"
That is a dude that gets out of town the second the season ends. He'll get out of town, go to the Yankees and jettison the Rangers," Cowherd said, citing an anonymous source.
"He wanted to be a Yankee. He doesn't like Texas. He doesn't pitch well in the heat.
"
So if Lee wants to be a Yankee, why would he prove to be so fallible against a division rival -- the worst one in the division, no less? Lee is an impending free agent and the more he pitches well, the more money he commands. Not according to Cowherd.
"He doesn't care about Baltimore. He doesn't care about Texas," Cowherd says. "When he pitches against elite teams, he is showcasing his talent. 'Here I am. I still got it.'"

So, is it true?
"It's a lie," Lee told reporters after Monday's game according to the Dallas Morning News . "Write that. Are you writing? Write that it's a lie. I did not say that and nobody close to me would say that. Either say who the source is or shut up because I am saying it is not true."
Lee suffered through one of his worst starts of the season Saturday to Baltimore, lasting just 5 2/3 innings and choking up eight runs on four home runs in a game the Rangers would go on to lose 19-7. This isn't the only blip in a Cy Young-caliber season for Lee, however. Also against the Orioles on July 10, pitching for the Rangers, he gave up three home runs and six runs, but went the distance in an 8-4 loss.
Is it too much to believe that Lee simply had an off-day? Jon Lester of the Red Sox is one of the best young left-handers in the game and prior to his Friday start against the Blue Jays had a 2.80 ERA. And yet he completely blew up, coughing up nine earned runs and two homers in just two innings. Is Lester not interested in making the playoffs, making a run at the Cy Young or just simply disinterested, like Cowherd claims Lee to be?
Going to go with a no on that.
Evan Grant, also of the Dallas Morning News, doesn't buy Cowherd's assertion , pointing out Lee has a 2.65 ERA against teams with losing records and a 2.85 mark against teams with winning records. Not a surprise.
"ESPN turned a 'non-story' into two stories by completely inverting the news gathering process [make accusations first; ask questions later], " Grant scathingly writes.
That's exactly what this is: a non-story. The fact is, whether Lee intends to stay in Texas or not is a moot point. He is a Ranger through October, and he's going to do everything he can to not only get his team into the playoffs, but position himself for a massive payday.
-- Evan Brunell
For more baseball news, rumors and analysis, follow @cbssportsmlb on Twitter or subscribe to the RSS feed .