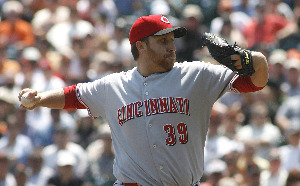 Aaron Harang
is on the verge of rejoining the
Reds
, but for the first time in his career, will likely be a reliever
according
to MLB.com.
Harang has been on the sidelines since June 30 due to lower back spasms and has been making rehab starts in Triple-A. On Friday, Harang coughed up six runs over six innings despite a 5/0 K/BB. In 11 innings, Harang has given up 14 hits and 11 runs, not exactly something the division-leading Reds can justify slotting into their rotation.
"We'll probably use him as a long man," general manager Walt Jocketty said Monday, adding that the team must decide whether he needs more rehab starts first.
Harang has struggled this year, posting a 5.02 ERA in 17 starts. Over the last few years, Harang has become a back-of-the-rotation starter despite his durability, and you can trace his devolution as a top starting pitcher to May 28, 2008.
Up until that date, Harang had been a durable, top-of-the-line starter for the Reds, clearing the 200-inning barrier from 2005-07 without much difficulty. After tossing six complete games in 2006, Harang was inked to a five-year, $36.5 million deal. A 3.73 ERA in 2007 made that deal look pretty good, but the best was yet to come for the 29-year-old.
On May 25, 2008, Harang got rocked by the
Padres
in 5 1/3 innings. Despite walking just two and striking out seven, nothing went right that day over 103 pitches. Three days later, the Reds were involved in a tight battle with the Pads, deadlocked at 9-9 going into the 13th inning. Harang was tabbed in relief and went four scoreless, tossing 63. He was lights out, striking out nine and walking just one, giving up just two hits. While the team would eventually go on to lose 12-9 in 18 innings, Harang's ERA rested at 3.32.
There was some concern immediately following the game if Harang was too gassed, but he made his next start on four days rest, lasting just four innings and giving up six runs. He finished the season with a 5.88 ERA in 18 starts, totaling 184 1/3 innings and spending time on the DL for right forearm soreness (ya think?). And he's never been the same since -- he posted a 4.28 ERA in 162 1/3 innings in 2009 sandwiched around a bout of appendicitis and his strikeout rate has declined. (Thanks, Dusty Baker!)
From 2005-07, Harang was good for a
WAR
around five. Since then, he hasn't cracked 2.5, which was 2009.
A move to the bullpen might be best for the struggling right-hander, but the rotation may still be in Harang's future. Edison Volquez, who recently returned from Tommy John surgery, lasted just two-thirds of an inning and has struggled in half of his eight starts. If Volquez continues to struggle over the next several starts, it might be Harang taking over. Other than Volquez, it's not likely Harang could crack the rotation what with
Bronson Arroyo
,
Johnny Cueto
,
Travis Wood
and
Homer Bailey
taking up the other four spots.
-- Evan Brunell
For more baseball news, rumors and analysis, follow @cbssportsmlb on Twitter or subscribe to the RSS feed .