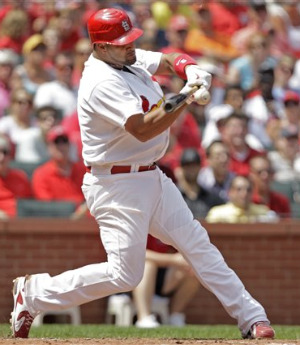 Albert Pujols
went 3 for 5 with a home run in Monday night's victory over the
Pirates
for the
Cardinals
. The performance was enough to vault Pujols into the league-lead for homers and RBI, pushing his average to .319, four points behind league-leader
Joey Votto
.
Yes, Albert Pujols, on pace for his third-worst OPS in his career, is a viable contender for a Triple Crown with a .319/.413/.600 mark, bashing 32 home runs and posting 92 RBI.
If Pujols can somehow leapfrog Votto (with
Martin Prado
one percentage point ahead of Pujols as well), he would be the first Triple Crown winner since 1967. He has some work on his hands to overcome Votto as well as potentially navigate
Omar Infante
. While Infante is likely to miss the cut-off to qualify for the batting title by about 60-80 at-bats, there is still a way for the .350-hitting utility infielder to win the title. If his batting average still leads the competition after adjusting up to the threshold with hitless appearances, Infante would win.
So say Infante finishes 70 at-bats short with a .350 average. Adding 80 hitless at-bats to get him to the 502 at-bat threshold puts him with a .295 batting average, so Infante's not likely to win out.
Pujols has a four-RBI lead ahead of the
Reds
' Votto, and a one-home run lead over
Adam Dunn
. He'll have stiff competition down to the wire, but it's looking like Pujols is an extremely viable candidate to tab perhaps baseball's most coveted milestone. The good news for those rooting for Phat Albert is that he is heating up -- after a season-low .848 OPS in July, Pujols has roared back with a 1.351 mark in August, hitting .425/.488/.863.
Pujols will have competition for that mark, however, the aforementioned Votto, pacing the NL in batting average and just behind Pujols in RBI, has 29 home runs, which is four behind Pujols. A well-timed hot streak could vault Votto atop the leaderboards in every category in what is the 26-year-old's MVP-caliber year.
As if a race to the wire for Triple Crown honors in the NL wasn't enough, the AL is working on its own Triple Crown candidate.
Miguel Cabrera
of the
Tigers
-- although he falls further and further out of the race through no fault of his own.
Cabrera is hitting .341/.437/.634 -- all better marks than Pujols... except Cabrera has to contend with two of the hottest hitters in the game.
Josh Hamilton
is lapping the field with a .357 batting average, a filthy .409 since June 1. On the home-run side of the ledger, his 31 home runs are just one behind Pujols... and nine behind
Jose Bautista
, who
bashed two
against the
Yankees
Monday.
At least Cabrera can find solace in his league-leading 103 RBI.
-- Evan Brunell
For more baseball news, rumors and analysis, follow @cbssportsmlb on Twitter or subscribe to the RSS feed .