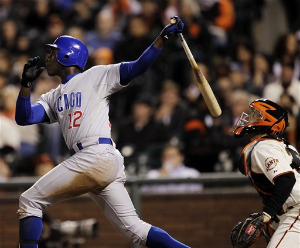 Interim manager Mike Quade wasted no time in putting his stamp on the
Cubs
, dropping
Alfonso Soriano
to the No. 7 spot in the batting order,
according
to ChicagoBreakingSports.com.
Soriano has batted sixth 88 times on the year, hitting .272/.324/.522 in 350 plate appearances. He also has 12 games at fifth and three games at fourth. He batted in the pitcher's spot 11 times and made one appearance later in the game at the seven-slot as well.
In the season, Soriano is hitting .260/.319/.499 with 19 home runs and 31 doubles in 424 PA. It's not clear why Soriano was dropped, as he has the necessary power to produce out of the sixth and seventh slots. Sure, he doesn't have the on-base percentage, but neither does
Tyler Colvin
, the new occupant of the sixth spot and is at .251/.310/.505 in 324 PA.
Quade also has second baseman
Blake DeWitt
leading off and
Geovany Soto
in the eight spot.
Soto being so low is nonsensical. Yes, he is making his return from the disabled list (shoulder), but is one of the team's best hitters -- if not the best hitter -- at .288/.401/.519 in 317 PA. An injury doesn't automatically mean one should bat last (or in the NL, eighth).
The DeWitt add to the leadoff spot is intriguing. With a .360 OBP on the year, it's a solid move. DeWitt has the fourth-highest OBP on the team behind Soto,
Kosuke Fukudome
and
Marlon Byrd
. Fukudome does not play regularly and Byrd is batting third. In addition, DeWitt's OBP with Chicago is .392 over 74 plate appearances, which vaults him past Fukudome.
Here is the full lineup:
DeWitt 2B
Castro SS
Byrd CF
Ramirez 3B
Nady 1B
Colvin RF
Soriano LF
Soto C
Coleman P
UPDATE : Quade said he doesn't particularly care whether Soriano hits sixth or seventh, but Colvin was inserted to break up the run of righties that Starlin Castro kicked off and ran through Xavier Nady in this specific lineup. "I wanted to break all that mess up with Colvin in there and see if that doesn't help a little bit," he said .
-- Evan Brunell
For more baseball news, rumors and analysis, follow @cbssportsmlb on Twitter or subscribe to the RSS feed .