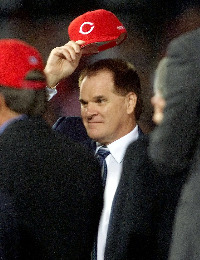 Major League Baseball has granted the
Reds
special permission
to honor Pete Rose on the 25th anniversary of him breaking the career hits record.
But get this: Pete's busy that day and can't make it -- he has "commitments" to a local casino. How great is that?
So instead of honoring Rose on the 25th anniversary of his 4,192nd hit, which is September 11, the
Cincinnati Enquirer
says the team will probably push it to the next day. Details of the ceremony haven't been worked out. Rose has not made an official on-field appearance in Cincinnati since he was banned for gambling in 1989.
"The Reds are celebrating every phase of the 25th anniversary. We approved the request on a one-time basis," Major League Baseball spokesman Patrick Courtney said.
A similar exemption was granted in 1999 for Rose to participate in the All-Century Team celebration at the All-Star Game. Technically, Rose has a petition to be reinstated that is "under review" by commissioner Bud Selig, but it has been "under review" since 1997.
-- David Andriesen
For more baseball news, rumors and analysis, follow @cbssportsmlb on Twitter.