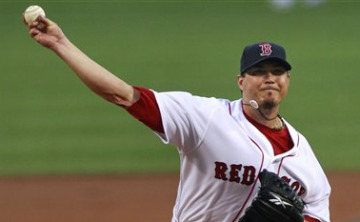 In the beginning of April,
Josh Beckett
inked a four-year, $65 million extension with the
Red Sox
that will keep him in town through 2014.
What were the Red Sox supposed to get in return for that financial outlay? Well, while his sublime season of 2007 looks to be the exception rather than the norm, Beckett had settled in as a solid No. 2 starter in the ultra-competitive AL East Division -- and the BoSox expected that trend to continue.
That extension isn't looking so hot at the moment as Beckett was burned for at least six runs for the third straight start Thursday against the
Angels
. That pushed his ERA to 6.67 on the season in 12 starts, erasing all the positive momentum he had gained in his first three starts since coming off the disabled list for a lower back strain.
However, pitching coach John Farrell refused to bite on Beckett's ineffectiveness,
telling
the
Boston Globe
that he sees some things to be pleased with.
"His fastball was down in the zone," Farrell said. "He threw some curveballs that he was able to finish some hitters off with. I think that's been one of the more encouraging signs, is that in the six starts that he's had since coming back, his curveball has shown more consistency, more of a true weapon. [I] thought he was down in the zone for the most part with his fastball, except for the sixth inning.
"I think it's going to be key for [Beckett] to recognize there were a lot more positives than maybe the linescore indicates."
Beckett's fastball clearly hasn't been up to snuff and is being battered around like never before in his career. As a result, Beckett is using his heater the least amount he has in his career. He's hurling it 57.3 percent of the time which is significantly off his 65.3 percent mark. To make up for the loss in fastball effectiveness, the righty has significantly boosted his cut-fastball, which he began to throw marginally when joining Boston in 2005. Since then, however, the cutter has morphed into a trusted part of his arsenal, just behind his curveball in usage.
Does that mean Beckett should abandon his fastball? Absolutely not. His fastball is his calling card and what has pushed him to his streaks of dominance in the past. As Farrell alludes to, Beckett has had trouble locating his fastball, which is the prime culprit in fastball ineffectiveness. A grand slam to
Hideki Matsui
that blew the game open was on a fastball middle-in, not down and away.
For the Red Sox to have any hope of making up their seemingly-constant 6 1/2 game deficit, Beckett's got to pitch better. The rotation can be one of the best in the game, but it's also tenuous. The only constant is
Jon Lester
, while
John Lackey
hasn't impressed in his first season wearing red socks and
Daisuke Matsuzaka
cannot be trusted.
Clay Buchholz
has the lowest ERA in the majors, but while he's been strong, has also been lucky with a 4.22 xFIP and luck can turn on a dime. That may be just what Beckett needs, as his 4.09 xFIP shows that while he's been hit hard, he's also been unlucky. Buchholz may hope the dime stays away from him, but Beckett might want to go through his pockets.
-- Evan Brunell
For more baseball news, rumors and analysis, follow @cbssportsmlb on Twitter.