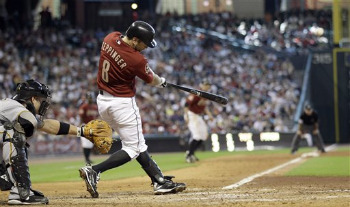 Today's word of the day: "sesamoiditis."
It looked like the
Astros
had gotten lucky on an injury to their top hitter, but they didn't dodge the DL bullet after all.
Second baseman
Jeff Keppinger
was put on the disabled list after Thursday's game, three days after coming out of a game with an injury to his left big toe. An MRI came back clean, showing no fractures or structural damage, and it was hoped he would be able to return soon.
But Thursday he was diagnosed with
sesamoiditis,
which is an infected hamburger bun. OK, not really. According to
foot.com
(do you get to visit foot.com in
your
job? I think not) sesamoiditis is "a common ailment that affects the forefoot, typically in young people who engage in physical activity." Well, there you go.
Basically, he has an inflammation in some tiny bones within the tendons that run to the big toe. And it's going to take long enough to come back from that the Astros decided it was prudent to DL him. Infielder Anderson Hernandez was called up to take his roster spot, and
Geoff Blum
has been starting at second in Keppinger's place.
-- David Andriesen
For more baseball news, rumors and analysis, follow @cbssportsmlb on Twitter.