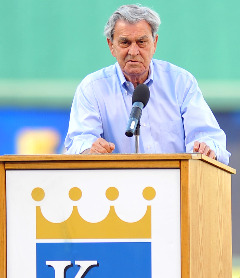 This may not be welcome news to long-suffering Royals fans, but don't expect Royals owner David Glass to sell the team anytime soon.
Despite presiding over almost two decades of futility after taking over in 1993 and buying the team in 2000, Glass wants to keep the team around now that K.C. shows signs of emerging from its doldrums.
"I have never ever talked to anyone about selling the club. Period," Glass told the Kansas City Star .
"I want to be around for the good times. I don't want to miss that."
While the Royals are currently stumbling to their eighth season of at least 90 losses in the last 10 years -- with only 2003 holding a winning record in the last 16 years -- the future is bright. The Royals have stockpiled a dizzying array of highly-regarded prospects, which is GM Dayton Moore's primary strength.
"It's hard to have the patience that you need, but the payoff will be worth it," Glass says. "I absolutely believe that. I think we're getting close, and I'm excited about it."
Glass lives nearby the Royals' Double-A affiliate in North Arkansas, so has started to see the talent wind its way through the system, and he's excited about it. While the Royals' farm system wasn't considered any great shakes as early as preseason 2010, the performance of players such as Mike Moustakas and Eric Hosmer as well as a solid draft conducted in June has lent much promise to the farm.
"We know there are no sure things," Glass said. "And some of them won't wind up being as good as you thought they were going to be. But others will surprise you. What you need are big numbers coming through so the percentage who do succeed get you where you want to go."
The Royals won't contend in 2011, but by the time 2012 rolls around -- incidentally, the year Kansas City hosts the All-Star Game -- there may finally something positive to write about Kansas City.
-- Evan Brunell
For more baseball news, rumors and analysis, follow @cbssportsmlb on Twitter.