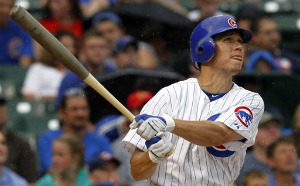 With
Derrek Lee
traded to the
Braves
, the long-term answer at first base is an open question mark.
Sure, Lee could return to town as a free agent, but the
Cubs
may not want to go back to the 34-year-old struggling through a down season and injuries. The problem is, there's no easy answer available.
Tyler Colvin
may be the solution, even if the outfielder would have to transition to first,
reports
the
Chicago Tribune
. Any move wouldn't happen until next season, however, as the Cubs maintain the 24-year-old would need a full spring training to adjust to the new position, of which Colvin has not played since being a sophomore at Clemson University.
"I'm not sure how long I'd need," the former first-round pick said. "It's been a while since I've done it. Hopefully if they want me to do that, I'll do it. No one has ever said 'Hey, we want you to take ground balls there.' I've got to wait for that first and then we'll see what happens."
Colvin is enjoying a breakthrough rookie season, in which he is hitting .250/.310/.510 with 18 home runs in 317 plate appearances. Despite being a No. 13 overall pick in 2006, Colvin has never been highly regarded, a perception he is working to dispel as he accumulates more and more playing time. If he wants a starting job in 2011, however he will probably need to shift to first.
The Cubs currently have
Alfonso Soriano
,
Marlon Byrd
and
Kosuke Fukudome
tentatively penciled in as the starting outfielders for 2011, although Fukudome's gig is due to his salary and not production. If Colvin had his way, though, it's clear he'd prefer to stay in the outfield.
"I'm comfortable in the outfield, but if that's what they want me to do, I can't complain," the 6-foot-3 lefty said. "If it helps out the Chicago Cubs, that's what I'll do."
The Cubs may also elect to keep Colvin in the outfield depending how the offsesaon goes.
Prince Fielder
of the
Brewers
is thought to be available in trade talks, and there will be additional players who may be on the way out that can play first.
Mike Napoli
of the
Angels
springs to mind, as the Angels don't seem prepared to hand him a full-time job.
There's also free agency.
Lance Berkman
could be a fit, and
Adam Dunn
could find the Windy City very much to his liking in addition to other thumpers such as
Carlos Pena
and
Paul Konerko
.
-- Evan Brunell
For more baseball news, rumors and analysis, follow @cbssportsmlb on Twitter.