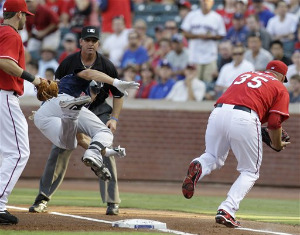 The hits keep on coming for
Jacoby Ellsbury
-- literally.
After having a MRI and CT scan, Ellsbury visited renowned Dr. Lewis Yocum in Los Angeles on Tuesday and found he suffered another fractured rib in what has been a season full of fractured ribs.
As ESPN Boston
reports
, Ellsbury's season is likely done. His season from hell started on April 11 when he collided with
Adrian Beltre
and suffered several non-displaced fractures in his ribs. He re-aggravated the injury after coming off on May 22 when an additional rib fracture was discovered after a diving catch. The additonal fracture was reportedly suffered along with the original four fractures and simply never discovered.
He remained on the DL until August 4, when he finally returned after a rehab that saw him leave the team and go to Arizona, much to
Kevin Youkilis
' chagrin. Ellsbury later lashed out at reports that he was milking the injury and not supporting the team, saying the
Red Sox
approved Ellsbury's five-week rehab in Arizona, a decision agent Scott Boras was involved in.
Ellsbury then collided with
Tommy Hunter
Friday and had to leave the game. It's currently unknown if the fractured rib is related to the previous rib injuries.
In just 18 games of a season in which Ellsbury was supposed to take 'The Leap', the lefty has hit .192/.241/.244 in 78 at-bats. He was coming off a 2009 campaign that saw him hit .301/.355/.415 and develop plate discipline as the season progressed.
Now, he'll have to wait until 2011 to log a full season and will have competition from
Mike Cameron
,
Ryan Kalish
, Daniel Nava and others for a starting spot. Nick Cafardo of the
Boston Globe
said prior to the season he felt Ellsbury would be traded after the season. While that's possible, it's likely the Red Sox will hang onto Ellsbury and attempt to have him rebuild value. They're not going to trade a game-changer whose value has seen a dent both on the field and off.
-- Evan Brunell

For more baseball news, rumors and analysis, follow @cbssportsmlb on Twitter.