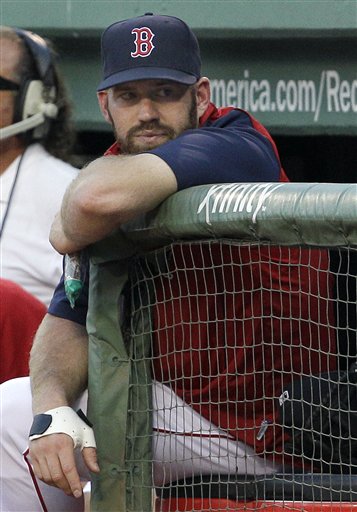 Kevin Youkilis
told reporters today that he still hopes to be ready to play in the postseason.
Keep in mind, that's Youkilis talking, not anything doctors have said.
"We don't know the timetable, we have to see when the stitches come out and all that, hopefully I can play in the playoffs," Youkilis said (
via WEEI.com
). "I might not be able to play at all, but I'm going to try to give myself the best chance to play int he playoffs if we make it."
That's nearly as big of an if as there may be in the whole deal -- the
Red Sox
are 5 1/2 games out of both the AL East and the wild card, behind the
Yankees
and
Rays
in both.
The Sox are sure to still be in the hunt through September, but another postseason could be a tough feat -- especially without Youkilis. However, the Sox did get
Dustin Pedroia
back today.
Youkilis, for one, isn't buying into the talk that the Sox are out of the playoff hunt.
"People keep coming up to me and saying, 'These guys have no chance anymore.' I tell them they're wrong," he said. "We've got a great team here. The best part of this whole team is the fact that where we're at, through this whole thing, is remarkable. It's not an ideal thing to the fans out there that we're five-and-a-half games out, but to be five-and-a-half games out with all that's gone on. … it's a great thing to watch."
Still, he hasn't enjoyed watching the Red Sox on TV.
"Sitting at home, it's not good. I wasn't really feeling that good last week. This pain medication, it's not good at all," Youkilis said (
via the Providence Journal
). "I got rid of those real quick. I finally got back up to feeling good line on Tuesday. … It's not fun watching baseball, but to be here and be in this environment and be around the guys, it means a lot."
Youkilis said he initially thought he'd just bruised his thumb before test showed a muscle tear. He doesn't know exactly how it happened, but assumes it was when he was hitting.
As for the other injured Sox, Terry Francona told reporters
Jacoby Ellsbury
had a doctor's appointment to check on his ribs,
Mike Cameron
is recovering from his sports hernia,
Jason Varitek
's broken foot is improving and reliever
Hideki Okajima
threw on Tuesday and could be sent out on a rehab assignment as soon as Sunday.
-- C. Trent Rosecrans
For more baseball news, rumors and analysis, follow @cbssportsmlb on Twitter.