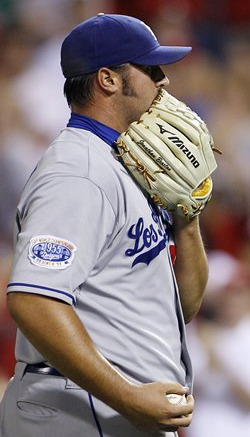 Jonathan Broxton
's struggles continued Thursday night, as a walk-off win by the
Phillies
pushed the
Dodgers
to nine games behind first place.
Broxton came in with a three-run lead after
Ronald Belisario
gave up four runs in the eighth to give the Phillies a fighting chance at what was then a 9-6 lead by L.A. Needless to say, Broxton blew the lead and handed Philadelphia a 10-9 victory.
Broxton hit
Placido Polanco
to lead off the ninth, then walked
Mike Sweeney
and
Jayson Werth
.
"[I'm] just a little wild right now," Broxton
told
MLB.com. "Every pitcher goes through it. Hopefully I'll get back to my normal self out there."
No kidding. After getting the season off to a start expected of the massive right-hander and walking just seven in 38 1/3 innings (not including intentional walks), Broxton is at an insane 11 in his last eight innings. His whiff rate has also tumbled from 12.9 to 5.6. Yes, eight innings isn't enough to draw conclusions on, but there's no question Broxton is in a massive funk -- and the funk began before these eight innings, stretching back to late June. After the game, manager Joe Torre refused to say Broxton would remain the closer outright.
"Let the smoke clear before you get me to say something I haven't thought about," Torre said of Broxton's implosion. "He's a big boy, he'll be all right. Long-term, I'm not worried about him."
Potential replacements for Broxton include rookie fireballing sensation Kenley Jansen, who was a catcher just last season. Lefty Hong-Chih Kuo could also pick up some saves.
Even though Broxton created his predicament with his wildness, he wasn't entirely to blame -- although he shouldered it all after the game, refusing to pin the loss on anyone else -- like Casey Blake.
With the bases juiced, Broxton then induced a grounder to third baseman Blake, who had just entered the game as a defensive replacement. The potential double-play ball went through his legs, scoring two runs and setting up
Carlos Ruiz
' walk-off double.
"One of those ... You don't call it do-or-die, but an in-between, and if you don't come up with it, it kind of makes you look like an idiot, and tonight I looked like an idiot," said Blake. "I've got to make that play, bottom line."
Ruiz then cranked a long double that bounced off the left-center field wall, sparking the histrionics.
"I always like that moment," said Ruiz. "I was going to the plate relaxed. I was thinking [manager] Charlie [Manuel] showed his confidence to get a big hit, because right there you have a bunt situation. So I said, 'You have to do something.' I definitely was looking for a good pitch to hit, and he threw me a slider right down the middle, and I made good contact."
While the Phillies were bouncing around enjoying the moment and ensuring they stay two games behind the
Braves
for the NL East Division lead, the Dodgers were solemnly walking off.
"That's a dagger," Blake said of the loss.
You bet it is, as L.A.'s current 2.2 percent chance to make the playoffs means you can stick a fork in the team.
-- Evan Brunell
For more baseball news, rumors and analysis, follow @cbssportsmlb on Twitter.