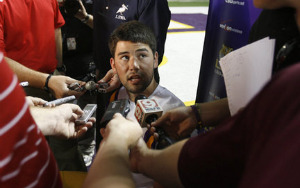 If the
Dodgers
want people to believe they didn't
intentionally tank
their first-round draft pick to save money, they're doing a really lousy job of showing it.
At LSU's football media day Tuesday, Zach Lee, a two-sport star from McKinney, Texas, said he hadn't heard from the Dodgers since draft day. At all. Does that sound like a team that's "going to make our best effort, definitely our best effort, to get out there and get this done," as Dodgers assistant general manager Logan White said after the draft?
Lee was always clear about his plans to play quarterback at LSU, and it was thought that only a very large amount of money could change his mind, but the cash-strapped Dodgers took him anyway with the 28th pick. That raised a lot of eyebrows and questions about whether the Dodgers did it on purpose, saving the signing bonus and collecting a compensatory pick next year.
"I haven't talked with them or anything," Lee told the
Times-Picayune
(also the source of the photo). "They contacted me to let me know they drafted me. I haven't heard from them since."
The deadline for signing players from the June draft is Monday. Are the Dodgers seriously not even going to put out a token offer? They're just going to let everyone -- including the other 29 teams -- assume they're acting in bad faith in the draft? Pretty amazing.
-- David Andriesen

For more baseball news, rumors and analysis, follow @cbssportsmlb on Twitter.