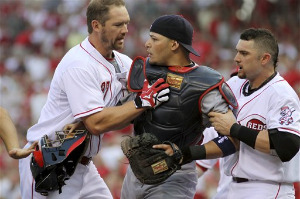 It's probably not ideal that the
Cardinals
and
Reds
have a day game Wednesday just a few hours after their
bench-clearing fight,
but on the other hand it might be good that they can get the game in before the disciplinary hammer comes down.
There are surely suspensions and fines on the way, but Reds manager Dusty Baker didn't want to speculate on who would be punished and how severely. Here's what he
had to say
in his pregame session with reporters.
"Hey man, I don't think it's even fair to print or anticipate or even say about losing guys. That's kind of like setting the sentence before somebody went to trial. It's like 'how many years will you get in jail?' Who says you will get to jail? I just hope the guys up there realize the tension, the pressure and background. You also can't just go on what you see on the video because you don't know what was said or what was done. You have to beware of the first man's testimony until the second man comes forward. The first man always sounds innocent until the second man testifies."

"Sometimes you know they claim no punches were thrown. There were words that created punches to be thrown. You know what I mean? Not that what happened was right on our side or what was said was right. There's always a cause and effect on every situation almost. In our hearts that thing was over, until some people started talking."
Cardinals catcher
Jason LaRue
, who says he was kicked during the brawl and has a concussion, showed up on the pregame TV show sporting a cut lip, reportedly
dropped an F-bomb,
and
said
"it's a shame Cueto doesn't have a brain."
Brandon Phillips
did not try to tap catcher
Yadier Molina
's shin guards with his bat -- the action that set off the scrum Tuesday -- when he came to the plate Wednesday, but it appeared the home-plate umpire instructed him not to.
Should be a tense few hours at Great American Ball Park.
-- David Andriesen
UPDATE:
A Reds official told the
Cincinnati Enquirer
that video of the incident is being sent to the league office, and it won't arrive until Thursday, so they don't expect to hear anything on discipline until at least then.

For more baseball news, rumors and analysis, follow @cbssportsmlb on Twitter.