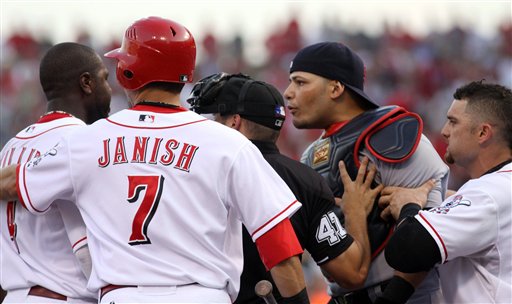 Cardinals
manager Tony La Russa said backup catcher
Jason LaRue
suffered a concussion in Tuesday's fracas in Cincinnati.
La Russa said LaRue suffered the concussion at the feet of
Reds
starter
Johnny Cueto
, who kicked outward when he was backed up to the backstop during the near-brawl.
"I've got Cueto kicking me in the back. It's super unprofessional. I don't know where he learned how to fight," Cardinals pitcher said
Chris Carpenter
, who claimed he ended up with scratches on his back.
Cueto said he was just trying to escape after being pinned against the wall.
"When 15 people get over you, you get scared," he said after the game, using catcher
Ramon Hernandez
as a translator. "I did get nervous, a lot. I put my feet up, trying to get out of the way. I was trying to get up. My back was against the wall and I was trying to get people out of the way so I could get up."
Cueto can expect a suspension as soon as Wednesday for his role in the fracas.
Carpenter said he didn't have a problem with former teammate
Scott Rolen
, who grabbed him and drove him to the backstop.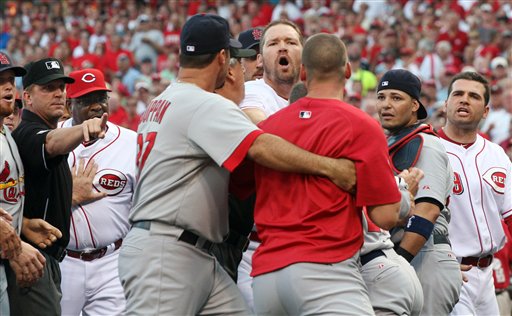 "It was fine. I think Scott grabbed me and they thought we were doing something. That's when the bullrush got me. Scott was pulling me out and I was fine with that," Carpenter said. "I didn't know what happened, I felt someone grab me. Next thing you know I'm laying on the net getting kicked."
When a Reds radio network reporter said to Rolen that it looked like he was trying to serve as a peacemaker, Rolen paused and said, "That's a very friendly way of putting it. It's a very nice thing to say."
Of course, this all started Monday when Reds second baseman
Brandon Phillips
called the Cardinals "little bitches."
Phillips, the Reds leadoff hitter, always taps the shin guards of the opposing catcher and umpire with his bat before the game. Cardinals catcher
Yadier Molina
took issue with the gesture.
"The comment he made last night ... that's going to happen. If you think I'm going to be in a good mood about the comment you made last night, don't say hi to me," Molina said.
Molina then said something to Phillips, kept him from getting into the batter's box and Phillips started jawing back. Then the benches emptied, with managers Dusty Baker and Tony La Russa getting into a shouting match.
"One thing led to another and guys were chirping and some guys said be quiet and then one of their coaches told our guys to be quiet," Baker said. "I told him to be quiet and Tony told me not to talk to his coaches."
After the managers were pulled apart, the second wave went on behind them with Rolen, Carpenter and Cueto caught up in it.
No players were ejected, only the two managers.
Molina then backed up his words, hitting a home run in the second and imitating Phillips' home run trot.
Molina finished 2 for 3 with two RBI, while Phillips was 1 for 5 with an RBI and made the last out in a Reds' loss for the second consecutive night.
Afterward, Phillips didn't have much to say.
"We just lost today. Regardless of what happened, it's all about wins and losses and we got an L today," he said.
With the 8-4 win, the Cardinals take over the lead in the National League Central by percentage points over the Reds.
-- C. Trent Rosecrans

For more baseball news, rumors and analysis, follow @cbssportsmlb on Twitter.