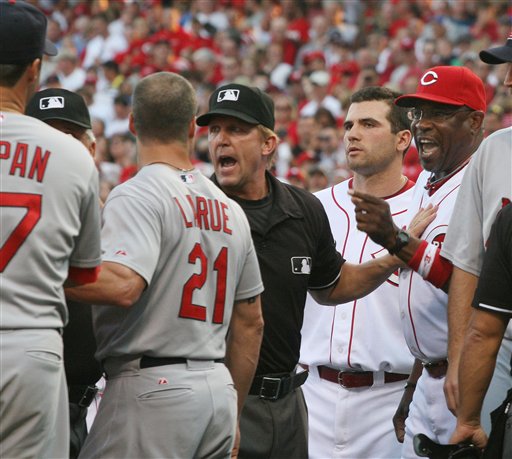 Maybe the
Cardinals
won't let their play do their talking.
On Monday,
Reds
second baseman
Brandon Phillips
called the Cardinals "little bitches"
and the Cardinals said they'd let their play do the talking.
Instead, Cardinals catcher
Yadier Molina
let his mouth do the talking. As Phillips went to the plate to lead off the bottom of the first, Molina impeded his way to the batter's box and started talking to Phillips. Phillips then started talking back to him and the benches cleared.
At one point,
Scott Rolen
, a former Cardinal, went after yesterday's starter,
Chris Carpenter
. Rolen drove him to the backstop, where the Reds' Tuesday starter,
Johnny Cueto
, was also caught up against the wall.
Both managers, Dusty Baker and Tony La Russa, were ejected, but as of now, it doesn't appear any players were tossed. The two managers were seen at one point jawing at each other, then Baker started yelling at a Cardinals player, as well. Baker and La Russa have a history, and it's not a friendly one.
Reds announcers reported nobody was hurt.
The Cardinals led 1-0.
UPDATE:
Molina was talking the talk and walking the walk -- homering in the second to give St. Louis a 2-0 lead.
UPDATE:
Phillips made his first mark on the field in the series with an RBI groundout in the third.
Joey Votto
followed with an RBI single to tie the game at 2 after three innings.
UPDATE:
Cardinals win 8-4 and take over first place in the National League Central by percentage points. Milina finished 2 for 3 with two RBI. Phillips was 1 for 5 with an RBI. For the second night in a row, Phillips ended the game, this time with a groundout.
UPDATE:
Dusty Baker on the Reds' postgame show said, "One thing led to another and guys were chirping and some guys said be quite and then one of their coaches told our guys to be quiet, I told him to be quiet and Tony told me not to talk to his coaches. ..."
From Molina on Fox Sports Midwest: "What happened in the first inning, he talked bad about my team, me, he doesn't have to say hi to me. If you say something bad to me, don't say hi."
"The comment he made last night, that's going to happen. If you think I'm going to be in a good mood about the comment you made last night, don't say hi to me."
Phillips: "We just lost today. Regardless of what happened, it's all about wins and losses and we got an L today."
Reds catcher
Ramon Hernandez
: "Now we've got to clear our head and play baseball. .... If you hate someone, you have to go out and beat them on the field."
La Russa: "It was terrible."
-- C. Trent Rosecrans

For more baseball news, rumors and analysis, follow @cbssportsmlb on Twitter.