As if the
return
of
Stephen Strasburg
isn't enough to cast all eyes on the Washington
Nationals
Tuesday night, the fact that the team is honoring its own and the city's history ought to grab other eyeballs.
The Nationals are unveiling a Ring of Honor with Hall-of-Fame names from the Washington Nationals, Washington Senators, Homestead Grays and Montreal Expos during a presentation honoring Andre Dawson's inclusion into the Hall of Fame.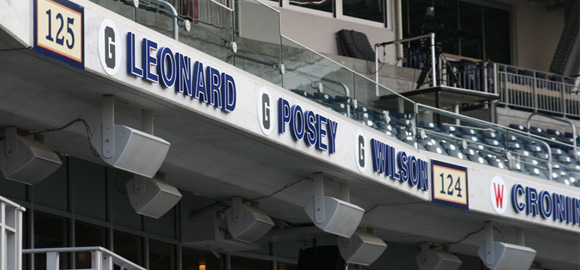 The Ring of Honor will boast 18 names, and NationalDailyNews.com (who also has the photo above) reports there is space for roughly eight more names.
There were three criteria in determining who made the Ring of Honor. The player had to have been in the Hall of Fame, had to have a tie to the teams listed above and spent significant time with the team, a rather arbitrary number.
The Ring of Honor is different from retired uniform numbers of which there are five: Jackie Robinson's national retired No. 42 along with Gary Carter's No. 8, Tim Raines' No. 30 and a hybrid No. 10 of Dawson and Rusty Staub.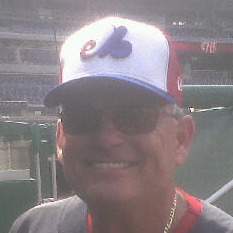 Two Expos in Carter and Raines are honored, along with 10 from the old incarnation of the Washington baseball club of the Senators. Rounding out the names are the Homestead Grays of the Negro Leagues.
But wait -- that's not all. Montreal Expo fans can have a taste of what could have been Tuesday night as Stephen Strasburg will take the mound wearing an Expos cap. That's right, the team is honoring its previous incarnation by donning Expos caps, as bench coach John McLaren illustrates to the right,
taken
by MLB.com's Bill Ladson.
In a press release, the Nationals broke down who is being honored in the Ring of Honor and why:
James "Cool Papa" Bell - Homestead Grays Center Fielder (1932, 1943-1946): Bell is among the most illustrious players in Negro Leagues baseball history and is remembered for his incredible speed on the basepaths and his superb defensive play as a center fielder. He was elected to the Baseball Hall of Fame in 1974.

Ray Brown - Homestead Grays Pitcher (1932-1945, 1947-1948): Brown anchored the rotation of the Homestead Grays during its Negro National League dynasty, when the club won eight pennants between 1937 and 1945. He was an all-around athlete that also played outfield and pinch-hit when he was not on the mound.

Gary Carter - Montreal Expos Catcher (1974-1984, 1992): Carter excelled at one of baseball's most demanding positions both as an offensive and defensive force for the Expos. He won three Gold Glove Awards and belted 324 home runs in his 19-year Major League career.
Joe Cronin - Washington Senators Shortstop (1928-1934): The seven-time All-Star won the AL MVP in 1930 when he hit .346 with 126 RBI for the Senators. Cronin was a wizard with the glove and a beast with the bat. He topped the .300 mark eight times and also enjoyed eight 100-RBI seasons.
Andre Dawson - Montreal Expos Center Fielder (1976-1986): An eight-time All-Star who won eight Gold Glove and four Silver Slugger awards, Dawson posted 438 home runs with 1,591 RBI and 314 stolen bases during his prolific 21-year career. Dawson joins Willie Mays and Barry Bonds as the only three players in baseball history to record 400 home runs and 300 stolen bases.
Rick Ferrell - Washington Senators Catcher (1937-1941, 1944-1945, 1947): The North Carolina farm boy retired having caught more games than any other American Leaguer (1,806), a record that lasted over 40 years. Ferrell was a defensive standout and had a knack for handling the knuckleball. He was a career .281 hitter during his 18-year career.

Josh Gibson - Homestead Grays Catcher (1937-1946): Gibson is considered the greatest power hitter in Negro Leagues history, pounding out nearly 800 home runs in his 17-year career. He utilized a fluid, compact swing to hit for both average and power, and tales of his mammoth home runs became legend.

Goose Goslin - Washington Senators Left Fielder (1921-1930, 1933, 1938): Goslin, known for his powerful swing and dependable clutch-hitting, is the only man to have played in each of the 19 World Series games featuring the Senators, leading the team to a title in 1924 with a .344 average and three home runs. He compiled 100-plus RBI and hit .300 or better on 11 occasions.
Clark Griffith - elected to HOF as an Executive (was also a Washington Senators Pitcher): Griffith, nicknamed "the Old Fox," was an innovative player, manager and owner who won more than 20 games six years in a row as a pitcher for the White Stockings. As an owner, Griffith kept baseball alive in DC from his arrival as a player in 1912 until his death in 1955.

Bucky Harris - elected to HOF as a Manager (was also a Washington Senators Second Baseman): Harris spent seven decades in the Majors as a player, manager, executive and scout. When he took over as player-manager for the Senators in 1924, he was just 27, but promptly led the team to two consecutive pennants and won 2,159 games in 29 years as a manager.
Walter Johnson - Washington Senators Pitcher (1907-1927): He was called the "Big Train" and it is easy to see why. He fanned 3,508 over a brilliant 21-year career with the Washington Senators, and his 110 shutouts are more than any pitcher in MLB history. Johnson won 417 games--second only to Cy Young on the all-time list.
Harmon Killebrew - Washington Senators First Baseman (1954-1960): Killebrew hit an astounding 573 home runs in his career. Over his 22-year career with the Senators, Twins and Royals, he tied or led the league in home runs six times, belting 40 or more on eight occasions and knocked in 100 or more runs nine times.

Buck Leonard - Homestead Grays First Baseman (1934-1950): The sweet-swinging first baseman was the backbone of the Homestead Grays in the late 1930s and 1940s. Leonard played in a record 11 East-West All-Star games, and his remarkable 17-year tenure with the Grays is the longest term of service with one team in Negro Leagues history.
Heinie Manush - Washington Senators Left Fielder (1930-1935): Manush was a hitting-machine for the Senators and consistently ranked among the game's top batters, ending his 17-year career with a .330 batting average. He hit .378 to win the 1926 American League batting title, edging out Babe Ruth on the final day of the season by going 6-for-9 in a doubleheader.
Cumberland Posey - elected to HOF as an Executive (also an Homestead Grays Outfielder): Posey was the driving force behind the Homestead Grays for 35 years, first as a player and then later as manager and team owner. His business standards and organizational skills made the Grays a perennial powerhouse and money-making machine.

Sam Rice - Washington Senators Right Fielder (1915-1933): He was small but swift and that helped him collect 2,987 hits, finishing his career with a .322 batting average and six 200-hit seasons. Rice starred on the Washington Senators' only three pennant-winning teams and still holds franchise records for hits, runs, doubles and triples.

Jud Wilson - Homestead Grays Third Baseman (1931-1932, 1940-1945): Satchel Paige said he was one of the two toughest hitters he ever faced, and Josh Gibson considered Wilson the game's best hitter. The hard-hitting lefty could play anywhere in the infield and he captained the formidable 1931 Homestead Grays squad.
Early Wynn - Washington Senators Pitcher (1939-1944, 1946-1948): Wynn was an extremely durable, hard-nosed competitor that led the AL in innings three times and played 23 seasons--an AL record for pitchers. He won an even 300 games and the Cy Young Award in 1959 at the age of 39, posting a 22-10 record to lead the White Sox to the pennant.
Early front-runners to eventually see their name immortalized in the Ring of Honor have to include Strasburg himself and All-Star third baseman Ryan Zimmerman.
Heck, Zimmerman might deserve to go up immediately. He is in his sixth season with the Nationals and already has to be considered one of the best third baseman in franchise history, even accounting for the Senators and Expos days. Some players on the list such as Heine Manush with six, have only several years experience in town and yet are now immortalized.
-- Evan Brunell

For more baseball news, rumors and analysis, follow @cbssportsmlb on Twitter.