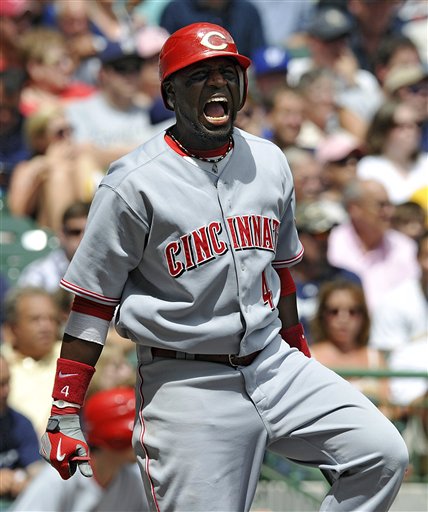 Reds
second baseman
Brandon Phillips
doesn't like the
Cardinals
. How much? Here's what he had to say to the
Dayton Daily News' Hal McCoy
before the start of Monday's three-game series between the two teams at Great American Ball Park:
"We have to beat these guys. I hate the Cardinals. All they do is bitch and moan about everything, all of them, they're little bitches, all of 'em. I really hate the Cardinals. Compared to the Cardinals, I love the Chicago Cubs. Let me make this clear -- I hate the Cardinals."
The Cardinals and manager Tony La Russa have complained about the baseballs at Great American Ball Park repeatedly. La Russa and starter
Chris Carpenter
complained after St. Louis' opening day victory in Cincinnati that the Reds clubhouse staff didn't rub down the balls enough before the game and they were too slick. The team also complained last season when John Smoltz complained about the same issue. La Russa said the Reds were "up to shenanigans" and also implied
Bronson Arroyo
was putting pine tar on the balls.
In 2007, La Russa said Reds starter
Aaron Harang
should have been suspended after he inadvertently hit Cardinals catcher Gary Bennett in the head.
Phillips may hate the Cardinals more after tonight, as St. Louis is currently pounding the Reds in Cincinnati.
UPDATE:
Not only did the "little bitches" beat the Reds, they beat them soundly, 7-3, with Phillips going 0 for 5 and striking out to end the game with a runner on. Here's what La Russa had to say to
St. Louis Post-Dispatch columnist Bernie Miklasz
:
"I don't think that will go over well in his clubhouse," La Russa said. "Phillips is ripping his teammates. (Scott) Rolen, (Jim) Edmonds, (Miguel) Cairo, (Russ) Springer, all of the ex-Cardinals over there. He isn't talking about this year. He's talking about the way we've always played. And those guys are old Cardinals. Tell him he's ripping his own teammates, because they were all Cardinals."
-- C. Trent Rosecrans

For more baseball news, rumors and analysis, follow @cbssportsmlb on Twitter.