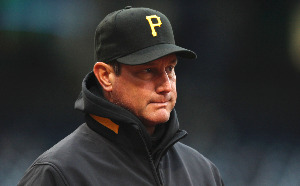 When pitching coach Joe Kerrigan and bench coach Gary Varsho were fired Sunday, manager John Russell was emphatic that it was his decision.
As the
Pittsburgh Post-Gazette
's Dejan Kovacevic
reports
, it was indeed Russell's decision, fully backed by GM Neal Huntington.
The firings happened because of disloyalty to the manager, although Russell would not confirm specifics. Players reported that Kerrigan and Varsho were at times openly critical of the skipper or held meetings that excluded Russell.
"It was a very gut-wrenching decision," Russell said. "There are some issues I've been working through for quite some time now that could not be resolved in a way I felt would be for the betterment of this organization. I respect both men greatly. I lost two friends today. That's tough to deal with. But my main focus is this team, and I felt moving forward that this was the time to do this."
At least one of the firings in Kerrigan was also performance related. The
Pirates
rotation has a 5.38 ERA on the season, second-worst behind the
Orioles
. Pitchers have regressed under his watch, and when Brad Lincoln was demoted to Triple-A after a loss of velocity, Huntington cited "mechanical changes at the major-league level," quite an indictment of Kerrigan and in hindsight, a harbinger of things to come.
To replace Kerrigan, Ray Searage has taken his place. Searage had been the assistant pitching coach and has 33 years experience in professional baseball. Unlike Kerrigan, who emphasizes numbers and batter-pitcher matchups over mechanics, Searage terms himself old-school.
"I go by my instincts, by my relationships that I develop with the pitchers," the seven-year veteran from 1981-1990 said. "I get their feedback, and it's not my way or the highway. It's our way."
Jeff Banister, the minor-league field coordinator, replaces bench coach Varsho who had developed a reputation as being the bad cop of the coaching staff, dispensing punishments and engaging in arguments. Banister is in his 25th season with the Pirates and has served as player, minor-league manager, big-league coach and is well-liked.
"The leadership he has shown as field coordinator, the leadership he's shown in our system, the dedication, the drive, the commitment to the Pirates as a whole, it's a great addition," Russell said of the two coaches who will get a chance to become permanent members of the staff.
Russell himself is on the hot seat after presiding over a Bucs squad that was supposed to take the next step in 2010. Instead, Pittsburgh is 39-72, just behind Baltimore for the worst record in the majors.
-- Evan Brunell

For more baseball news, rumors and analysis, follow @cbssportsmlb on Twitter.