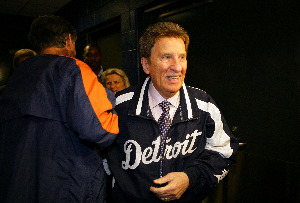 The
Tigers
' season is circling the drain right about now, but owner Mike Ilitch said he's unwavering in his support of manager Jim Leyland and general manager Dave Dombrowski.
"[This season] is very disappointing, "Ilitch told the
Detroit Free Press,
"[but] I'm staying with Dave and I'm staying with our manager. I feel that we're going to move forward."
With baseball's sixth-biggest payroll and a solid core, the Tigers were expected to contend this season, but injuries and disappointing performances all around (the Tigers are 10th in the American League in ERA and ninth in runs scored) have left them on the outside looking in. Detroit is in third place in the AL Central, nine games back, and seventh in the wild-card standings.
The good news is that the Tigers have as much as $60 million in salary coming off the books after the season, so there is a lot of flexibility and a chance to improve quickly. Ilitch said he has learned some tough lessons about locking up money in big contracts in the past few years.
"I'm the kind of guy that says we took some risks and they didn't work out," said Ilitch, who also owns the NHL's Detroit Red Wings. "And I learned a huge lesson. I'll be a little bit more careful in the future. It won't stop us from spending, but we'll be a little bit more careful."
-- David Andriesen

For more baseball news, rumors and analysis, follow @cbssportsmlb on Twitter.