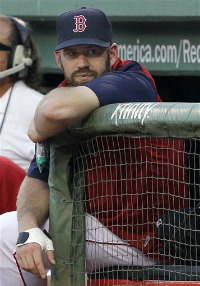 Red Sox
manager Terry Francona
told reporters
Thursday afternoon that first baseman
Kevin Youkilis
will have to have surgery on his injured thumb and is out for the year.
Youkilis tore a muscle in his right thumb on Monday, and was to be examined by a hand specialist Thursday.
"He'll be immobilized for approximately six weeks and then be re-evaluated from there," Francona said. "I think Youkilis was pretty resolved to the fact that this was probably going to happen."
It's a big blow to the Red Sox, who are six back in the American League wild-card race. Youkilis was batting .307/.411/.564 with 19 homers and 62 RBI. The Red Sox might turn out to be lucky they were unable to pawn off
Mike Lowell
, who has had nowhere to play this season but now looks like the starter at first.
If Boston decides to pursue a first baseman, the options appear limited.
Ty Wigginton
,
Lyle Overbay
and
Derrek Lee
are among first-base options who didn't move before the non-waiver deadline, but it's unclear whether they could get through waivers. The
Mariners
would probably let
Russell Branyan
go. Teams have reportedly been looking at Carlos Delgado, who hasn't played since last year and is recovering from hip surgery.
-- David Andriesen
UPDATE:
Lowell was in the lineup at first again Thursday. Francona told reporters the plan is to have him at first for three games of the four-game series against the
Yankees
. He said the other first-base options on the current roster are
Victor Martinez
,
David Ortiz
and
Jed Lowrie
.
UPDATE:
The
Boston Herald
reports that the Red Sox will work out Delgado in the next few days. There have been reports that the
White Sox
,
Rockies
,
Angels
and Mariners have called about Delgado recently.
UPDATE:
Delgado's agent, tells the
Chicago Tribune
's Mark Gonzalez that he's talked to the White Sox and says, "Carlos will be wearing a uniform for someone next week."

For more baseball news, rumors and analysis, follow @cbssportsmlb on Twitter.