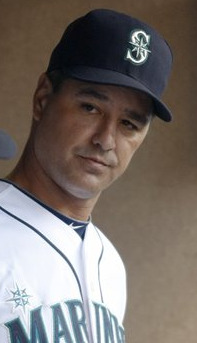 General manager Jack Zduriencik finally spoke up about manager Don Wakamatsu.
Wakamatsu has been twisting in the wind ever since a July 23 dugout altercation with second baseman
Chone Figgins
, who had just been taken out of a game against the
Red Sox
for dogging it in the field. Jack Z held private meetings with both Wak and Figgins, with Figgins going undisciplined and the manager not being publicly backed.
Now, that's happened. Well, sort of.
"Don is our manager," Zduriencik told media multiple times
via
the
Seattle Times
. That was his response when asked if Wakamatsu had the support of the front office, whether he would be evaluated after the season and the perception he left Wakamatsu hanging after the Figgins altercation.
We get it. Don's the manager. We can also read in-between the lines.
Zduriencik also refused to speculate on Wakamatsu's future. In other words, consider him a goner after the season. He said that "everybody is evaluated at all times. As we go forward, you have to realize there is always an evaluation process going on at all times."
For Wak's part, he agreed with Z's take.
"I came in here last year with some high expectations," Wak
said
. "We had a good year last year. [This year] we've had some disappointments and injuries, but everything that's come out of my mouth is we want to put a product on the field the fans can respect. We haven't done that. To point the finger or look at me, they have a right to do that.
"I'm judged on wins and losses and I'll take that. It comes with the territory."
As for the perceived lack of backing of the skipper, Jack Z had this to say:
I"m not sure what the definition of backing is. What I had, I had my meetings with Don privately, had my meetings with Figgy privately, then I had my meeting with them together, and then I had my meeting with the big league staff with everyone in the room, and I think I made it perfectly clear behind closed doors what the expectations were and who was in charge.
"So at that moment, I felt that it was important that we keep the internal things internal. During the course of a season, during the course of a career, there are things that happen and sometimes they aren't as pleasant as you would like to be. So for all parties involved there's a lot at stake for a lot of people, whether it's players, coaches, teammates, or the fanbase, for that matter, too. Sometimes you are better off when you gather all your information and you've addressed it as I've made a decision to do...
And in my estimation, the best thing to do at that time was to keep it internal and move and play baseball...What I said to the staff and to the players, I think they got the message. Don is the manager and Don is in charge of this ball club. And that point, I believe I got it across. But to bring it out and air it out exactly how it went down, I didn't think it was the proper thing at that time. That was my judgment call.
There have been consistent reports that there is a serious disconnect between the front office and coaching staff, with Zduriencik basically leaving Wakamatsu out to dry -- and the coaching staff isn't happy about it. It's clear that both sides are struggling to co-exist and are just trying to make it to the offseason.
Both sides deserve a fair amount of blame. Wakamatsu has skippered some very disappointing performances, while Z was content to let Wakamatsu head into the season with Casey Kotchman -- of all people -- in the third spot of the lineup. However, as the season has progressed, it's become clear Zduriencik is content to let Wakamatsu twist in the wind, and that's not very becoming of him.
Zduriencik won't have any shortage of replacements as there will always be those willing to overlook warning signs to be able to skipper a team. Those that have the luxury of choosing, however, like Joe Torre and Bobby Valentine, to name two, might be wise to take a long, hard look at the occurrences of the season.
-- Evan Brunell
For more baseball news, rumors and analysis, follow @cbssportsmlb on Twitter.