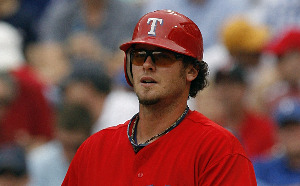 The
Red Sox
made two separate trades, dealing away
Ramon Ramirez
to the
Giants
and acquiring Jarrod Saltalamacchia from Texas.
Ramirez shone as a reliever for the
Rockies
in 2006 before a terrible 2007 season sent him to K.C. for 2008. He delivered on that potential before moving onto Boston for
Coco Crisp
and posted back-to-back seasons of sub-3.00 ERAs. However, while his strong season in 2008 was legitimate, the 2009 one was with a mirage of a 6.7 K/9 (down from 8.8) and 4.1 BB/9, similar to the
Royals
numbers but not helpful when combined with that K-rate.
Ramirez is back to being like gasoline on a fire as regression to the mean has hit him hard. His K and BB rates remain unchanged, leaving him at a 4.46 ERA in 42 1/2 innings. He was sent out for Daniel Turpen, a 23-year-old Double-A reliever has promise to emerge as a middle reliever one day.
The prize of the day for Boston is Jarrod Saltalamacchia, once a key to the
Mark Teixeira
trade that sent him from Texas to Atlanta. Boston has been trying to get him for years, and would have once upon a time cost
Clay Buchholz
.
This time, it cost Boston a mid-Class A first baseman in Chris McGuiness, low-Class A starter Roman Mendez, a player to be named later and cash (surprise).
McGuiness, 22, has shown blossoming power but is a bit old for his level. He is smart and is popular with teammates. His line on the year in 282 at-bats is .298/.416/.504 -- a strong line no matter how you cut it.
Mendez, 20, is the type of raw player that teams should absolutely take fliers on every now and then. Texas did this with Boston when acquiring Engel Beltre in the Eric Gagne deal. Beltre is a budding star now and is one of Texas' best minor-league players. Mendez, for his part, throws in the upper 90s and dominated the Dominican Summer League and rookie ball the last two seasons. His ERA is a sky-high 11.40 in six starts for Greenville, but for low-Class A Lowell is at 4.36 over eight starts with 35 whiffs in 33 innings. He's a great live arm to take a project on with.
Salty, for his part, has seen his luster fade in recent years.
Splitting 2007 between Texas and Atlanta at 22, Salty hit .266/.310/.422 in 329 plate appearances, the best mark of his career so far. He's chimed in with a .253/.352/.364 line over 230 PA in 2008 and .233/.290/.371 in 310 PA in 2009. He has only five at-bats to his name in 2010, as he has spent most of the season either on the disabled list (back issues) or Triple-A. The injury-prone catcher has a .244/.326/.445 line in Triple-A which is his second-poorest season in the minors overall.
He's been plagued with the yips, struggling to throw the ball back to the pitcher on the mound although that has turned around in recent weeks. All in all, he is still a strong prospect -- even if he's 25 now -- and a great flier for the Red Sox to take given their open-ended future at catcher. For Texas' part, they receive two strong, intriguing prospects for someone who desperately needed a change of scenery.
-- Evan Brunell

For more baseball news, rumors and analysis, follow @cbssportsmlb on Twitter.