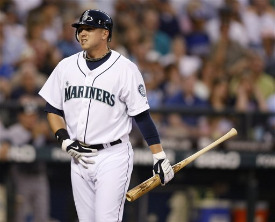 It's hard to imagine things being any worse in Seattle, where the
Mariners
need to win Saturday night to avoid setting a record for most losses in a month in franchise history (which is saying something -- this is a franchise that has been through some rough months).
Now first baseman
Justin Smoak
, the centerpiece of their trade of
Cliff Lee
, the future cornerstone of the offense, is
headed to Triple-A.
Smoak was batting just .209 as a Ranger, and has been digging new depths at the plate since the trade. His Seattle numbers are truly ugly: .159/.169/.270.
He's been getting some time off as manager Don Wakamatsu talks about trying to relieve some of the pressure on him, and this move would signal that Smoak is really feeling the heat -- unless it would damage him mentally, there's zero downside to letting Smoak play out the season for a team that's beyond dead, no matter what his numbers are. Smoak has been working on some adjustments to his swing, and the Mariners apparently think he's better off doing that on the smaller stage (and against the lesser pitching) of Triple-A.
Also Saturday, the Mariners placed
Milton Bradley
on the disabled list. He's been battling a sore knee.
The moves could signal that the Mariners were clearing roster room for a potential trade (they've talked about moving
Jose Lopez
,
David Aardsma
and
Brandon League
), but they immediately replaced Smoak and Bradley on the roster with Sean White and Matt Tuiasosopo.
-- David Andriesen

For more baseball news, rumors and analysis, follow @cbssportsmlb on Twitter.